WildC.A.T.s #6
DC Comics
Written by Matthew Rosenberg
Art by Stephen Segovia and Tom Derenick
Colors by Elmer Santos
Letters by Ferran Delgado
The Rundown: There are secrets within the HALO Corporation and forces outside and within wanting to know what they are.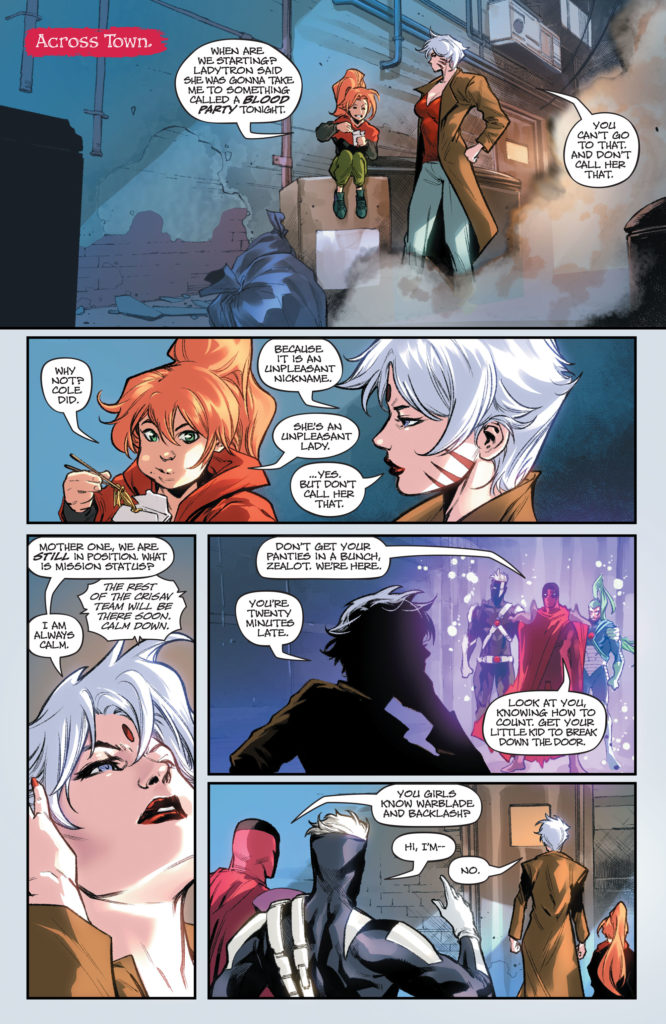 Marlowe is continuing his PR spin for the cameras when he gets an unexpected and hard hitting question from a certain investigative reporter for the Daily Planet. A question that will cause him to end his photo op earlier than expected. At the same time, Zealot and Fairchild find themselves assigned to a new team for a mission with unexpected results and the revelation that they are being targeted by HALO themselves. Behind the scenes, a familiar face returns with a new mission.
While Zealot and Fairchild find themselves on the wrong side of HALO, an unexpected save gives them some breathing room while they are on the run. Clark Kent meets with an old friend regarding HALO's activities and someone everyone thought dead decides to pay a visit to the boss with explosive results.
The Story: Rosenberg continues to create an entertaining story filled with great twists and reveals throughout. I really enjoyed the surprise characters popping up in the story and what it means for the bigger plot. I also really enjoyed the mystery slowly unfolding and the lengths the characters will go to find out the truth. The team continues to be interesting as well and I look forward to seeing what happens next.
The Art: Segovia and Derenick deliver some great visuals throughout the issue. The art is beautifully detailed and both artists deliver on the action and character.