Prepare for the action-packed, modern origin story that takes a fresh, fun look at the Super Hero genre in a can't-miss spectacle of vibrant visuals, humor and heart when "Blue Beetle" arrives for purchase Digitally at home on September 26. The film is directed by Ángel Manuel Soto ("Charm City Kings") with Xolo Maridueña ("Cobra Kai") starring in the DC Super Hero's first-ever standalone feature film. The film will also be available to purchase on 4K UHD, Blu-ray and DVD on October 31.
Recent college grad Jaime Reyes returns home full of aspirations for his future, only to find that home is not quite as he left it. As he searches to find his purpose in the world, fate intervenes when Jaime unexpectedly finds himself in possession of an ancient relic of alien biotechnology: the Scarab. When the Scarab suddenly chooses Jaime to be its symbiotic host, he is bestowed with an incredible suit of armor capable of extraordinary and unpredictable powers, forever changing his destiny as he becomes the Super Hero Blue Beetle.
On September 26, "Blue Beetle" will be available for early Premium Digital Ownership at home for $24.99 and for 48-hour rental via PVOD for $19.99 SRP on participating digital platforms where you purchase movies, including Amazon Prime Video, AppleTV, Google Play, Vudu, and more.
On October 31, "Blue Beetle" will be available to own on 4K UHD, Blu-ray and DVD. "Blue Beetle" will also continue to be available to own in high definition and standard definition from participating digital retailers.
The "Blue Beetle" ensemble cast also includes Adriana Barraza ("Rambo: Last Blood," "Thor"), Damían Alcázar ("Narcos," "Narcos: Mexico"), Elpidia Carrillo ("Mayans M.C.," the "Predator" films), Bruna Marquezine ("Maldivas," "God Save the King"), Raoul Max Trujillo (the "Sicario" films, "Mayans M.C."), with Oscar winner Susan Sarandon ("Monarch," "Dead Man Walking"), and George Lopez (the "Rio and "Smurf" franchises). The film also stars Belissa Escobedo ("American Horror Stories," "Hocus Pocus 2") and Harvey Guillén ("What We Do in the Shadows").
"Blue Beetle" is written Gareth Dunnet-Alcocer, based on characters from DC. The film is produced by John Rickard and Zev Foreman and executive produced by Walter Hamada, Galen Vaisman and Garrett Grant.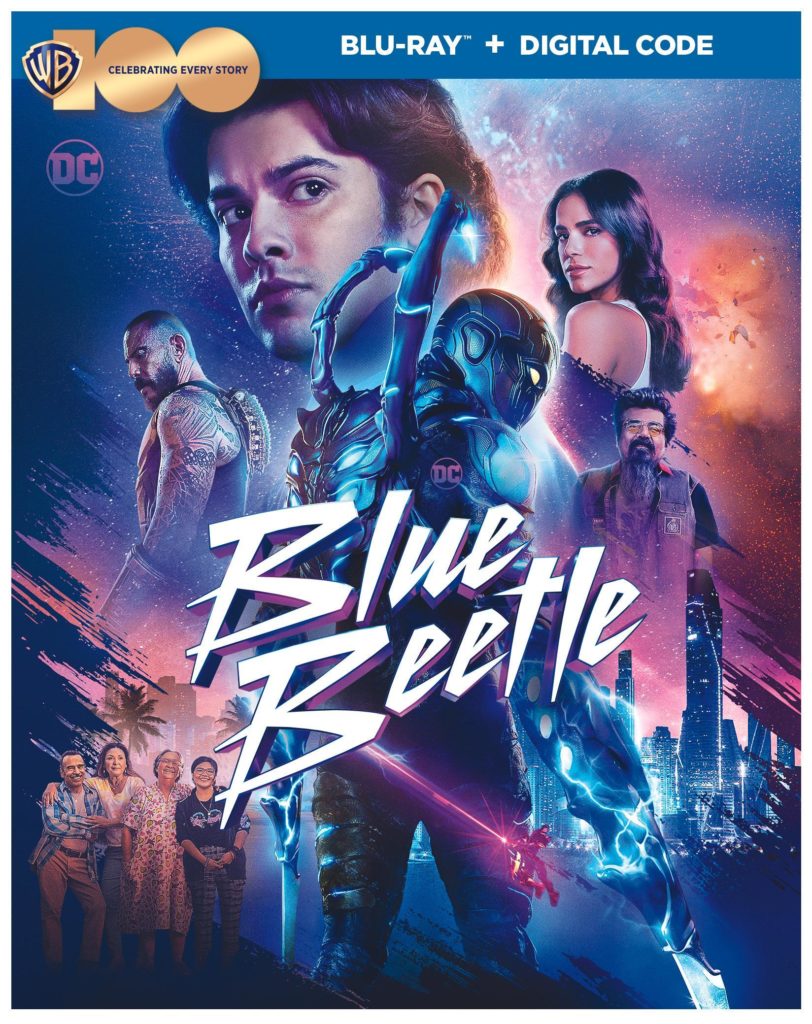 DIGITAL, 4K, BLU-RAY & DVD ELEMENTS

"Blue Beetle" Premium Digital Ownership, 4K UHD and Blu-ray contain the following special features:  
"Generations: Blue Beetle" – 4-part documentary

Told in distinct chapters, explore the journeys of actors and filmmakers bringing "Blue Beetle" to the big screen for the first time ever. Audiences will be immersed in the POV of filmmakers who showcase their experiences on set and in their creative studios making the story of this DC character a reality.

Nana Knows Best – featurette

Witness Nana's transformation from an adorable 'abuelita' into a machine gun-wielding revolutionary, and stop in for a few of her most fun moments on set throughout production.

Scarab Vision – 2-part featurette

Xolo Maridueña hosts this series of scene study walk throughs that showcases how the scarab works and the role it plays in some of Blue Beetle's most epic moments.