Uncanny X-Men #8
Marvel Comics
Written by Matthew Rosenberg, Kelly Thompson and Ed Brisson
Art by R.B. Silva
Inks by Adriano Di Benedetto
Colors by Rachelle Rosenberg
Letters by Joe Caramagna
The New Mutants have grown into soldiers, but the battle is just beginning.
X-Man is gone, Legion is catatonic and the battle to stop Nate's horsemen continues to rage.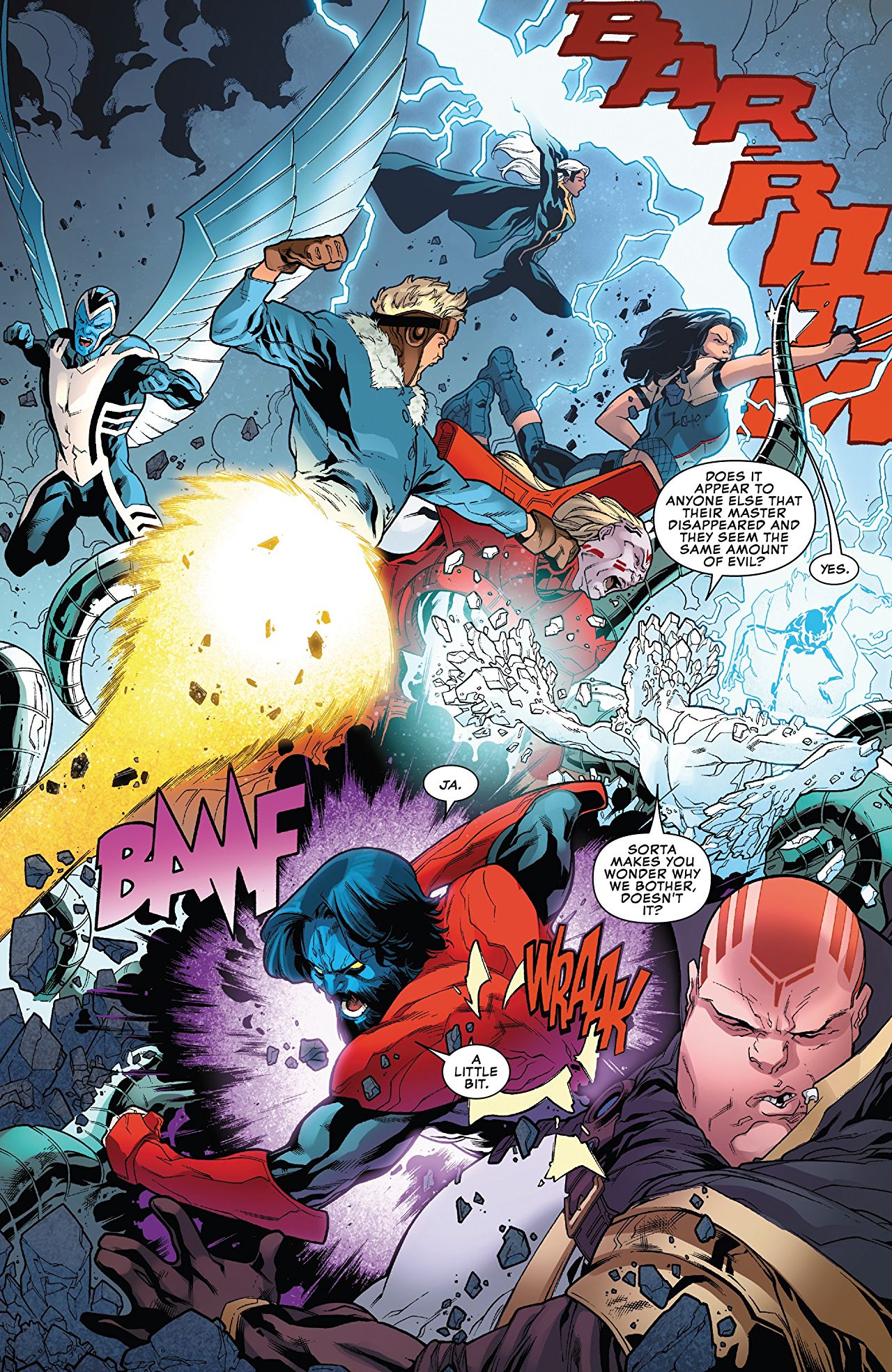 Unable to reason with Magneto, Omega Red or Blob, the X-Men combine forces to take them down. With Nate trapped in Legion's mind, his captives are free. This means that Kitty Pryde can rejoin her friends. It also means Apocalypse is free as well. As everyone thinks of ways to free the mutants from the Age of Apocalypse, Kitty has an idea that sounds brutal, but makes the most pragmatic sense. The fact that Apocalypse agrees with it makes it even more ominous.
Bishop decides to find a third option and tells Betsy to put him inside Legion's brain. He arrives in the Age of Apocalypse right before Armor murders Nate. The intrusion gives David enough time to enter the fray and both psychic beings begin to battle. A battle that will have huge consequences in the real world.
At the same time, Beast finds the thief who stole the vaccine from his lab and the perpetrator is someone close to home.
The issue does a good job of moving the story forward and raising the stakes. I liked the way it progressed, but there were elements that seemed a little too formulaic. The series continues to be a fun ride, but the conclusion needs to come sooner rather than later. The writing team is doing some interesting and creative character work and progression. I just want to get to the overall point of this prelude.
The art is really good. I really enjoyed the action and fight scenes throughout. One of my favorite panels in the emergence of Apocalypse from the wreckage. It's rendered and framed beautifully with the tone of the scene.