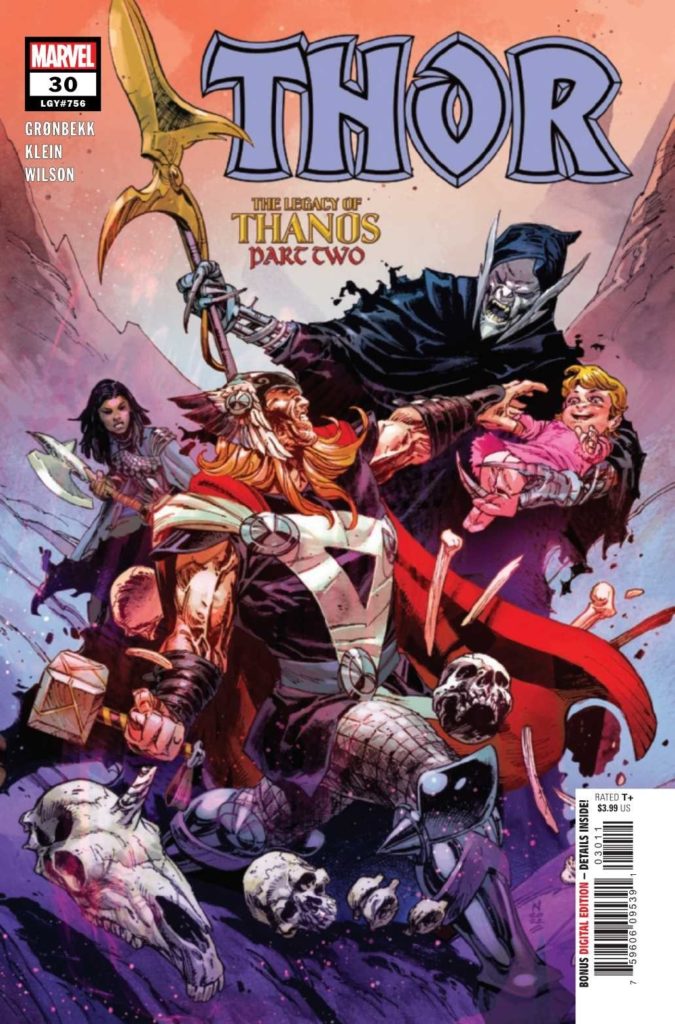 Thor #30
Marvel Comics
Written by Torunn Gronbekk
Art by Nic Klein
Colors by Matt Wilson
Letters by Joe Sabino
The Rundown: Thor's journey to rescue his sister will send him on another filled with mysteries and secrets.
Thor and Runa continue their search for Corvus Glaive who has kidnapped Thor's sister Laussa in an attempt to use her blood to open a door sealed for centuries. The pair find themselves seeing an echo of the past. An echo that involves Bor and his forces fighting Thanos. After seeing the past and battling their way through undead forces, Thor and Runa face Corvus Glaive.
Unable to open the door with the blood of Laussa, Corvus faces off against Thor and a new power neither of them knew he had. In the aftermath, Thor decides to open the door himself and discover the secrets within while a familiar face waits for his chance to discover the secrets as well.
The Story: Intense, engaging and revelatory. I love the layers Gronbekk is peeling back for this character and the things being revealed to him. The story has a great level of tension and every moment serves the arc well. I love the darker tone of the story as well and how it is building to something that has me excited. The issue ends with a fantastic cliffhanger that has me excited to see what happens next.
The Art: Klein delivers beautifully detailed art across the issue. The battles are thrilling and the character moments are filled with visual charm that has me going back over pages and panels to pick up new details.