The Sandman Universe Nightmare Country: The Glass House #3
DC Comics
Written by James Tynion IV
Art by Lisandro Estherren
Colors by Patricio Delpeche
Letters by Simon Bowland
The Rundown: As Madison tries to convince Max to help her, Corinthian is tempted.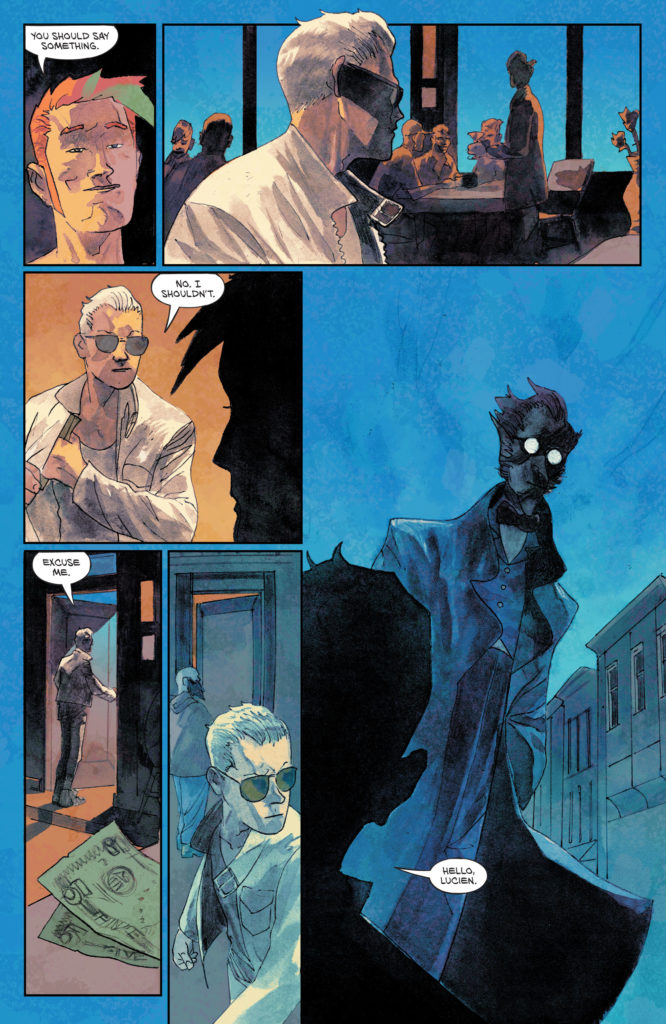 After locating the bar that Max has been having his trysts with the dead Kells, Corinthian finds himself being tempted by Azazel to return to his old ways. A prospect the nightmare has a hard time dismissing out of hand as he sits in another bar thinking of old times and old crimes.
At the same time, Madison confronts Max about his relationship with Kells and enlists his help to break into his company as a way of freeing Kells from the bar. As the pair make their way in to a meeting with the writer of Madison's story, Corinthian meets with Azazel again while Madison and Max are confronted by a familiar face.
The Story: I love that James Tynion IV is fully embracing the lore and world of the Sandman along with all of its characters. The temptation of Corinthian is a great storyline and I am excited to see it play out. Max's story is compelling and the issue does a great job of fleshing out his character into someone who is interesting to see. The plot does a great job of world building while also raising the stakes for the characters and leading the reader to an intriguing conclusion with the return of an equally interesting character.
The Art: Delpeche delivers some beautifully detailed and emotionally evocative imagery throughout the issue. The visuals have great style and I love being immersed in the imagery being created.