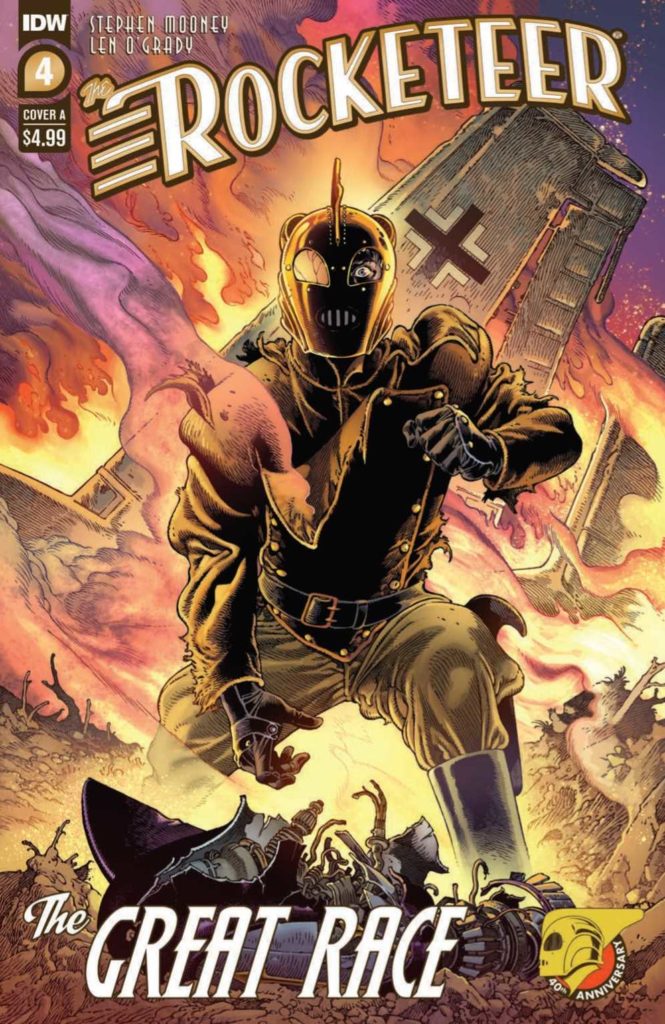 The Rocketeer The Great Race #4
IDW Publishing
Written by Stephen Mooney
Art by Stephen Mooney
Colors by Len O'Grady
Letters by Shawn Lee
The Rundown: Cliff has one chance to stop a growing threat to the balance of power in the world.
The Great Race has reached the final leg and Cliff Secord is coming in fast. Unfortunately, he's not in a plane. He's flying as the Rocketeer. With the Baron in the lead, Cliff has to put on some speed to overtake him. Unfortunately, the Baron decides to attack a passenger plane causing Cliff to reveal his identity to Debbie in order to get her help to save everyone.
With one obstacle out of the way, Cliff and Debbie have to work fast to stop the Baron and reveal the plans of Cliff's new benefactor. A plan that will lead to a battle between the Rocketeer and his quarry. A battle that could cost Cliff his greatest weapon.
The Story: Mooney brings this story home with thrilling action, adventure and charm. The dialogue is fantastic and I love the immediacy of the plot and its stakes. The entire series has been a fun ride with familiar characters and raised stakes. It's a great read and the finale is an awesome adventure worthy of the fantastic world created by Dave Stevens.
The Art: Mooney delivers some amazing and visually stunning art on every page of this issue. The character designs are amazing and the art perfectly captures the thrills of the story.