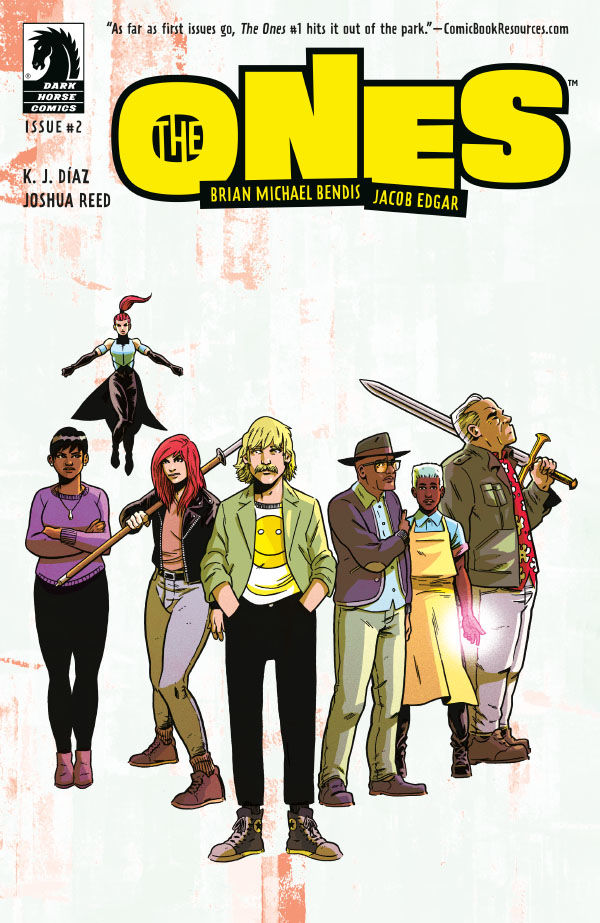 The Ones #2
Dark Horse Comics
Written by Brian Michael Bendis
Art by Jacob Edgar
Colors by K.J. Diaz
Letters by Joshua Reed
The Rundown: With the apocalypse in full swing, Wilson has to find some way to get his team to work together.
In the recent past, Wilson is summoned by his uncle to his storage facility where he not only reveals that he is the keeper of prophecies, but also that he has left that legacy to Wilson along with a surly gnome named Lork Lorick. Back in the present, Wilson and the Ones find themselves facing an army of demons in the streets of Paris as they question Wilson about what they need to do next.
As Wilson deals with his inexperience at stopping an apocalypse, he continues to think back on his first forays into it with Lork Lorick as well as a lecture he receives from a member of his new team before they all gather to confront the person they've been looking for.
The Story: Another fun outing from these characters by Bendis. The story continues to be very funny and engaging even with the seriousness of the subject matter. I like diving into Wilson's backstory in this issue and how his inexperience has led to the events he and the rest of the team are dealing with. I love the character interactions a lot and really look forward to seeing where the story goes next after its entertaining cliffhanger.
The Art: Edgar's visuals are perfect for this type of story and they allow for the humor and over the top elements of the story to come through. I love the style of the art and how it complements the mood and tone of the story for the reader.