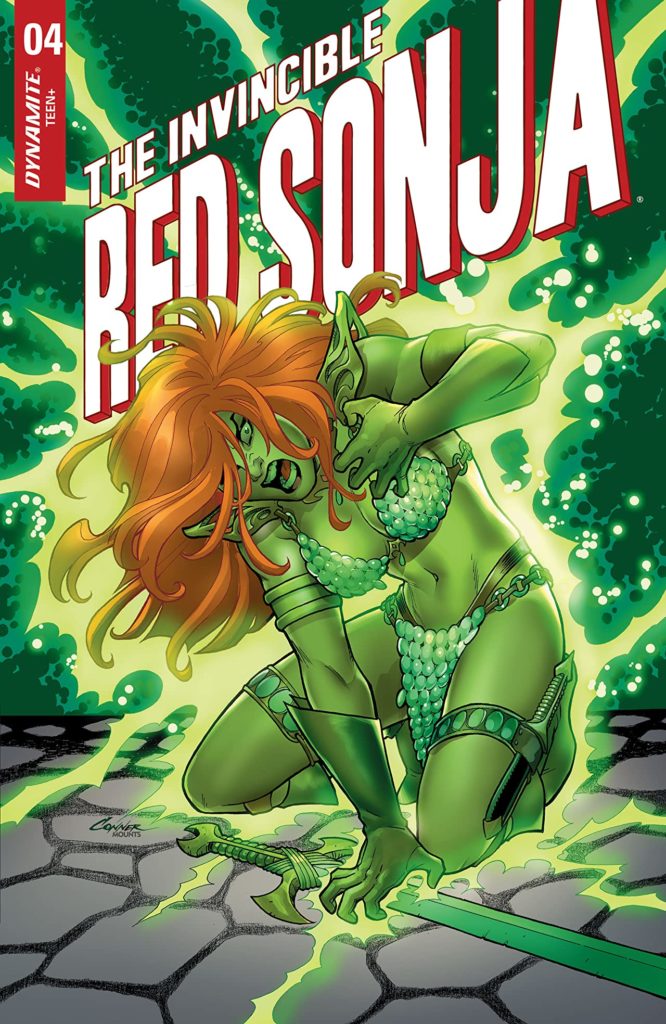 The Invincible Red Sonja #4
Dynamite Entertainment
Written by Amanda Conner and Jimmy Palmiotti
Art by Moritat
Colors by Matt Carter
Letters by Dave Sharpe
The Rundown: Sonja's fight to save a kingdom will cost her something precious to her.
Sonja and her companion come upon their target enlisting the help of dark magic to kill the king. After sending Tuma to warn the palace, Sonja confronts the thief. After taking his head, she rides to meet up with Tuma and head back to the palace. When the thief is unmasked, the king's wizard goes into a blind rage killing him and many of his guards as Sonja attempts to rescue the rest of the royal family. In his rage, the wizard has one last spell to cast on Sonja herself.
After the wizard flees, Sonja awakens in a world she doesn't recognize. After waking from her torment, another awaits. Sonja finds herself at the mercy of the wizard who has granted her immortality as he controls her body in order to use her to slay his enemies.
The Story: Conner and Palmiotti continue to impress with this issue. The story is dense and brilliantly plotted with awesome action and suspense throughout. There is an energy to the story that is immediately engaging and I found myself immersed in this world and the threats Sonja faces. The tension only mounts when Sonja realizes what has happened to her and the theft of her free will is definitely a battle I want to see her fight in the next issue.
The Art: Moritat delivers some beautiful visuals throughout the issue. The action is breathtaking and the detailed panel engage the reader with every page.