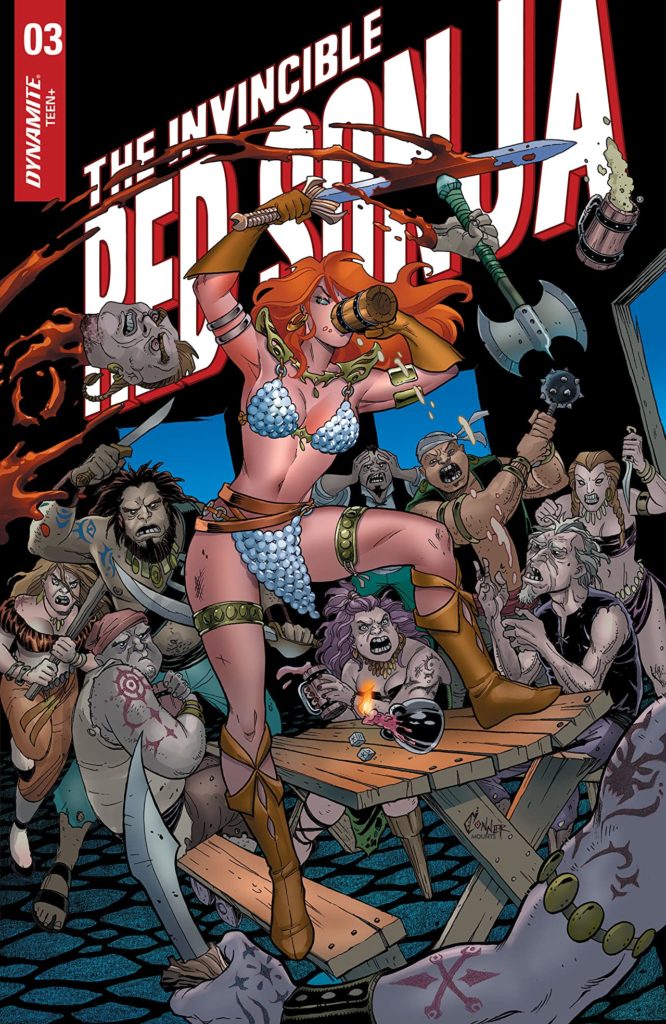 The Invincible Red Sonja #3
Dynamite Entertainment
Written by Jimmy Palmiotti and Amanda Conner
Art by Moritat
Colors by Matt Carter
Letters by Dave Sharpe
The Rundown: With a price on her head and a wedding in jeopardy, Sonja races to find the thief.
The crown needed to complete the upcoming wedding is missing and the king's wizard has put on bounty out for anyone who returns it. Sonja takes the wizard up on his offer and heads to the local den of thieves to seek her prime suspect while the king worries that his authority will be challenged with news of the theft.
Sonja finds herself in battle with a group of brigands on her search for information and finds an ally in her fight. After getting the information they need, they travel to the location of the king of thieves, but they are too late to stop what's begun. The thief has promised great treasure for the head of the king of the thief displays a dangerous and unusual power.
The Story: Palmiotti and Palmer continue to raise the bar for Red Sonja stories with an issue that showcases both the power and personality of the character. The action and adventure elements are thrilling and engaging. The dialogue is engrossing and there is a great level of wicked fun to be had throughout the issue. I am consistently impressed with this story and cannot wait for more.
The Art: Moritat delivers some beautifully detailed visuals throughout this issue. There are so many great visual moments to be had and the art style is perfect for this story and character.