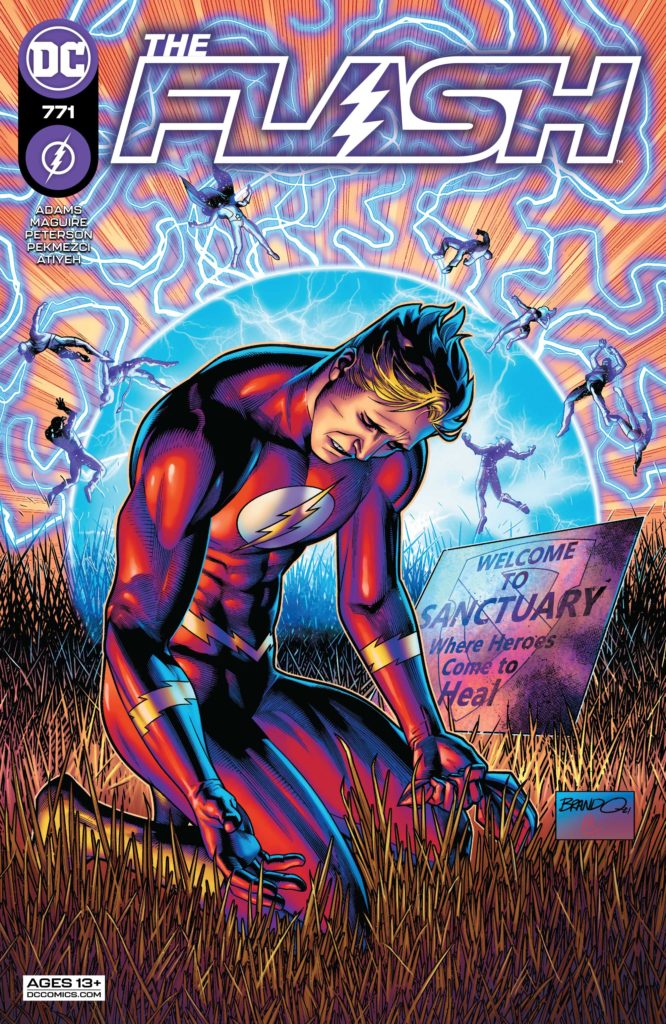 The Flash #771
DC Comics
Written by Jeremy Adams
Art by Kevin Maguire, Howard Porter, Berat Pekmezci, Bryan Hitch, Max Raynor, Scott Kolins, Tom Derenick, Fernando Pasarin, Oclair Albert and Brandon Peterson
Colors by Michael Atiyeh
Letters by Steve Wands
The Rundown: Wally's trip through the Omniverse continues as Flash discovers some interesting things about his future.
Wally's adventures in time take him to an interesting place. After jumping into Reverse Flash, Wally finds himself with the Legion of Doom and a presumed dead Superman whom he reportedly killed. When Superman rises with the speed force energy coursing through him, Wally only has minutes to remove the energy from him before he explodes.
As his journey continues, Wally finds himself in the future with his adult kids and learns that his daughter knows more about this adventure than he believed. So much in fact that she helps him with the next part of his journey by warning him that it is going to be hard. It turns out to be an understatement as Wally finds himself back in his own body but in the worst moment of his life as a hero.
The Story: Interesting, endearing and often funny, Adams crafts a story that has a lot going on. The first part of the story is funny both in its premise and execution while the hunt to help Wally has humorous elements of its own. When Wally goes to the future, the story takes a more adult tone that is sweet and endearing. A well done story with a great twist at the end.
The Art: All of the artists deliver some great visuals throughout the issue. Not one moment feels out of place in the world of the narrative and the styles compliment each other well.