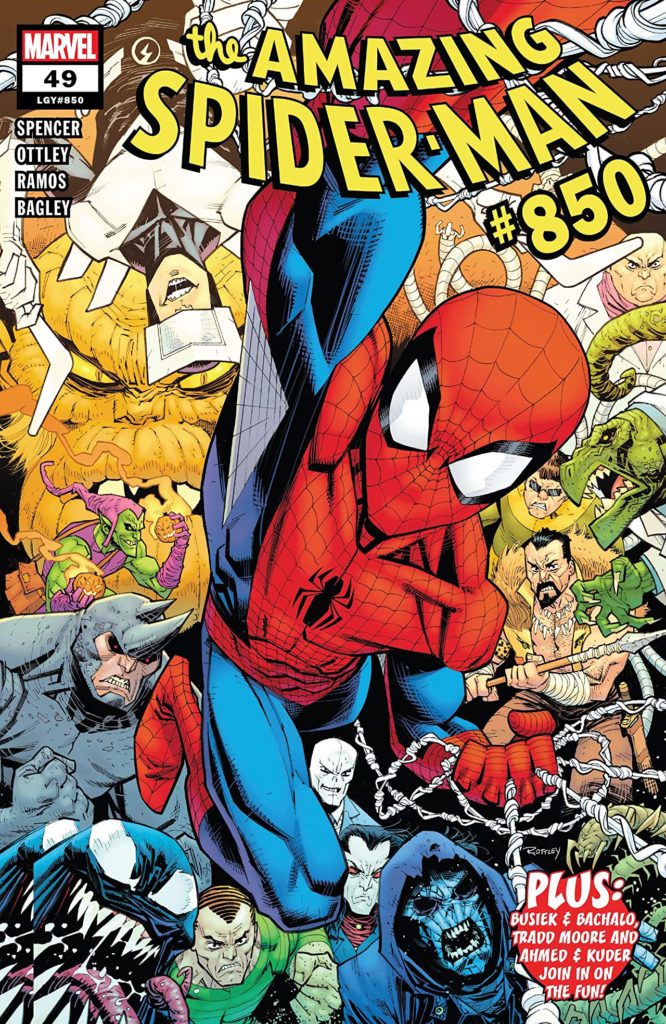 The Amazing Spider-Man #850
Marvel Comics
Written by Nick Spencer
Art by Ryan Ottley, Humberto Ramos and Mark Bagley
Inks by Cliff Rathburn, Victor Olzaba and John Dell
Colors by Nathan Fairbairn, Edgar Delgado and David Curiel
Letters by Joe Caramagna
The Rundown: In order to survive the onslaught of Sin Eater and his forces, Spidey will have to allow Norman to tap into his worst self.
Ravencroft is overrun with servants of the Sin Eater and when the villain runs into the Juggernaut, the encounter leaves Cain down and Sin Eater feeding off his powers. The by-product becomes more powerful followers and with more avenues closing for Peter and Norman, Osborn decides that the only way for them to escape is for him to become the Green Goblin once more. Both Spider-Man and Green Goblin end up working together to escape from Ravencroft with Sin Eater on their heels.
At the same time, Peter's allies watch the events unfold with the help of Madame Web and their original plan to stop Peter and let the Sin Eater take Osborn is revisited by Gwen, who has one big objection to it.
The Story: Nick Spencer does a great job with the tone of Spider-Man and his stories are fun to read and become immersed in. While this story is interesting and somewhat satisfying, it is too long. Breaking it up into chapters didn't help the feeling that the story was dragging and needed to be more focused. The interactions between Peter and Norman were well done and the ending was interesting, there was a lot that could have been trimmed from the middle and it would have made the story feel more cohesive.
There are three additional stories added to this issue and they are fine in length, if not in story. "All You Need Is…" is good if you're a Beatles fan, but a little hokey. "Four Shoes" is a visual and tonal mess. "A Family Affair" is a great short with a theme that I want to see explored more.
The Art: Ottley, Ramos and Bagley deliver some beautiful visuals throughout this issue. The pages look great despite the unnecessary length of the story.