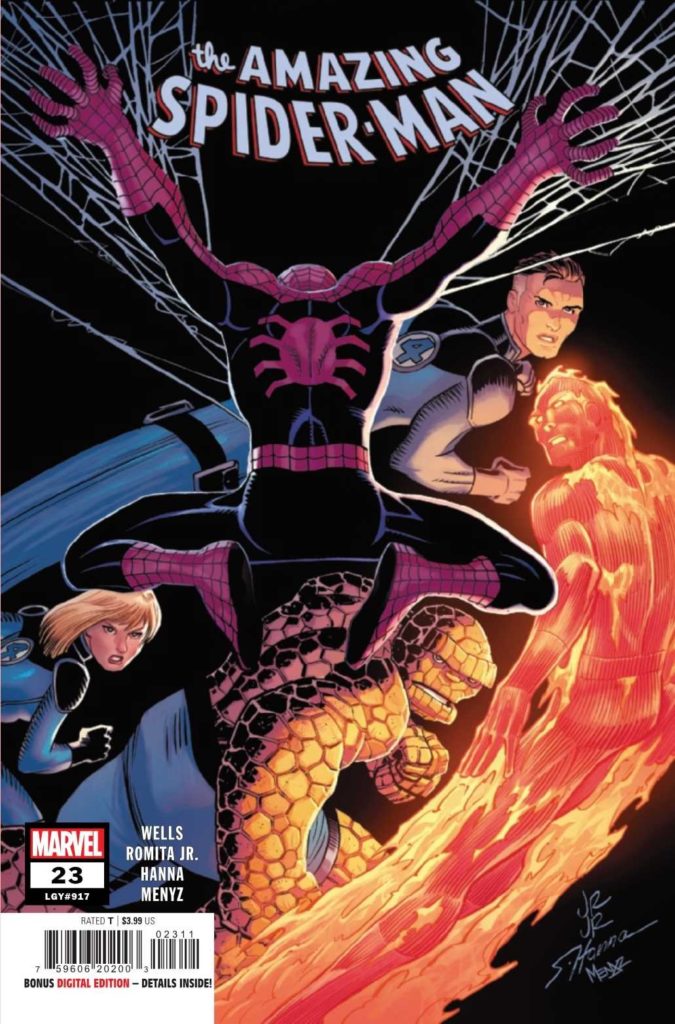 The Amazing Spider-Man #23
Marvel Comics
Written by Zeb Wells
Art by John Romita Jr
Inks by Scott Hanna
Colors by Marcia Menyz
Letters by Joe Caramagna
The Rundown: Peter is returned to his world and now has to find a way to bring back Mary Jane.
Battered and beaten, Peter Parker has been returned to his world, but he came back alone. Frantic to find a way to bring back MJ, he finds his way back to New York to get help from Reed Richards. Unfortunately, Reed is away and both Ben and Jonny are trying to keep him in the building.
Not willing to wait, Spider-Man hits the skies over the city. Unfortunately, the authorities are hunting for him and they've sent Captain America to bring him in. A prospect Peter doesn't have time for and pushes him to seek help from an unexpected source.
The Story: Wells crafts an intense story in this issue and I love the plot's immediacy. Peter is on the edge and the story showcases how, as much as he loves working with friends, he is his own person and needs to work outside the confines of team dynamics. I love how the story progresses and the serious tone of it. I'm exactly really excited to see what happens next.
The Art: John Romita JR delivers some great art. The focus is on Peter and there are some great visual moments that match the intensity and immediacy of the story.