Tear Us Apart #1
Dark Horse Comics
Written by Jay Baruchel and Van Jensen
Art by Alessandro Micelli
Colors by Alessandro Micelli
Letters by Taylor Esposito
The Rundown: Two kids fall in love as they are prepared for war by a dangerous cult.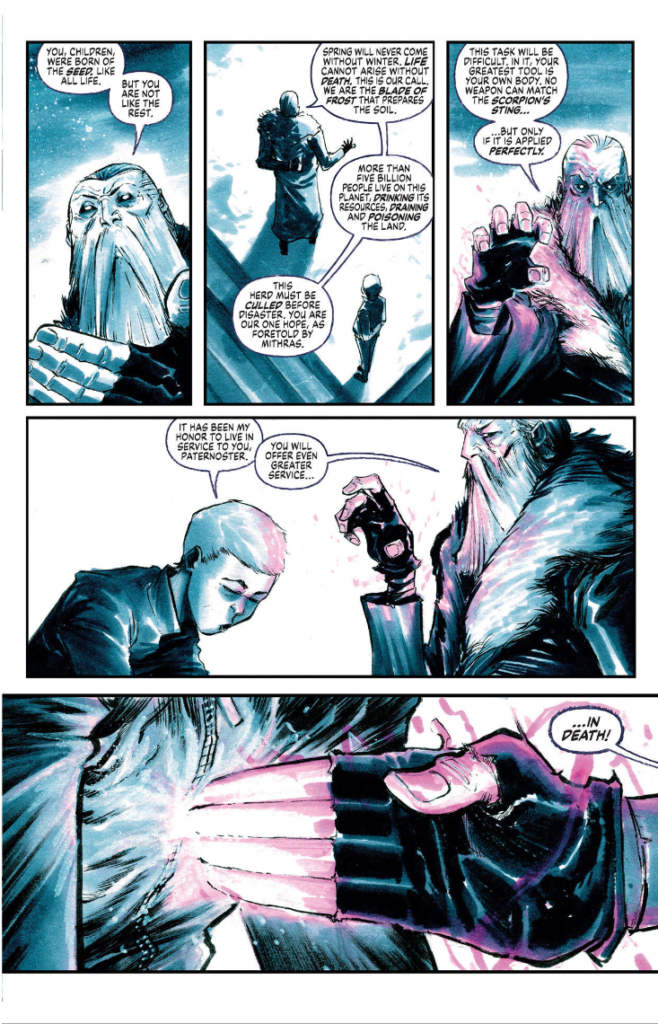 At a retreat in the mountains, the Paternoster prepares a group of children for the end of the world. As he rules his cult with an iron fist, he demands violence as a form of control and the children deliver as they fight to become warriors for the cult. Unfortunately, Twenty-Five struggles with the violence demanded of him.
In his corner is a young girl named Eighty-Two. Their growing feelings for each other will force them to betray the cult and they are hunted for it. What no one knows is that these two kids are more powerful than they think.
The Story: Baruchel and Jensen craft an interesting story in this first issue. It is highly entertaining and filled with great action. I really like the premise of the story and the dangers facing the characters both externally and internally. There is a brutality to the story that grabbed my attention as well and adds another level of suspense to the plot. Conceptually interesting and well executed.
The Art: Micelli delivers some blistering violent and gorgeously detailed art throughout the issue. The issue has a dark and ominous tone amidst the love story and the art wonderfully reflects that.