Sweet Paprika #1
Image Comics
Written by Mirka Andolfo
Art by Mirka Andolfo
Colors by Simon Tessuto
Letters by Fabio Amelia
The Rundown: Paprika is a driven career woman who feels like something is missing.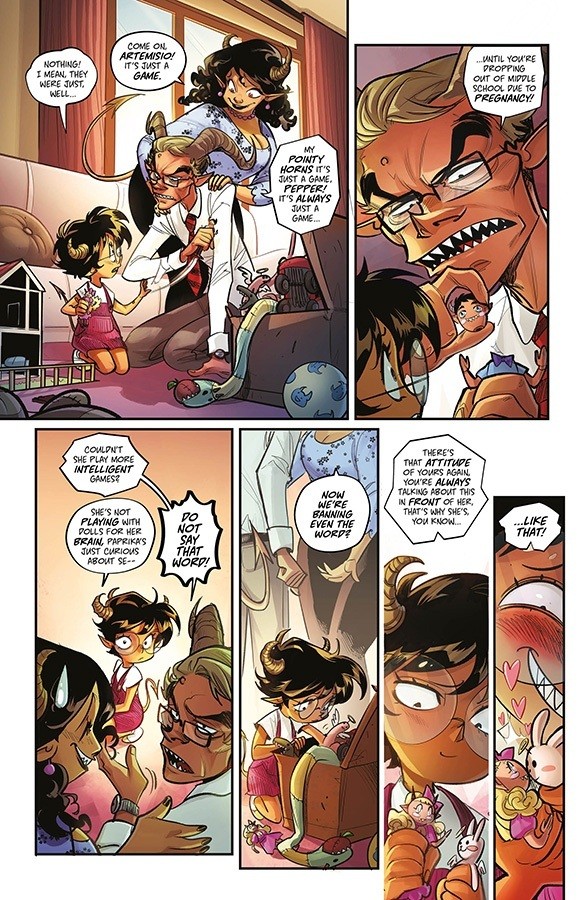 Paprika is a successful woman with the world at her feet. Her rise up the corporate ladder has given her money and success, but at the cost of real friendships and relationships. Something she tries to convince herself she doesn't need. When the delivery man Dill comes by the office and catches the attention of the ladies, she is instantly annoyed. Things get worse when he nails everything about her that is keeping her from being truly happy.
As Dill has a fling with one of Paprika's employees and discovers the life of a lothario has its own problems, Paprika tries to convince herself that her life is perfect the way it is. When a phone call interrupts her in the middle of the night, Paprika will find herself racing off to encounter something that will change her world.
The Story: Andolfo crafts a great first issue filled with humor and a fun, light tone that is instantly engaging. There are a lot of adult situations in this first issue, but there is also a maturity to the story and its character's personal issues. The dialogue is great and the chemistry between the lead characters is fun to see. I'm definitely interested in seeing how this story and these character dynamics grow and evolve.
The Art: Andolfo's art is beautiful. The imagery is stylish, sexy and fun throughout. I love the anime inspired influences and every page has something to catch the eye and draw in the reader.