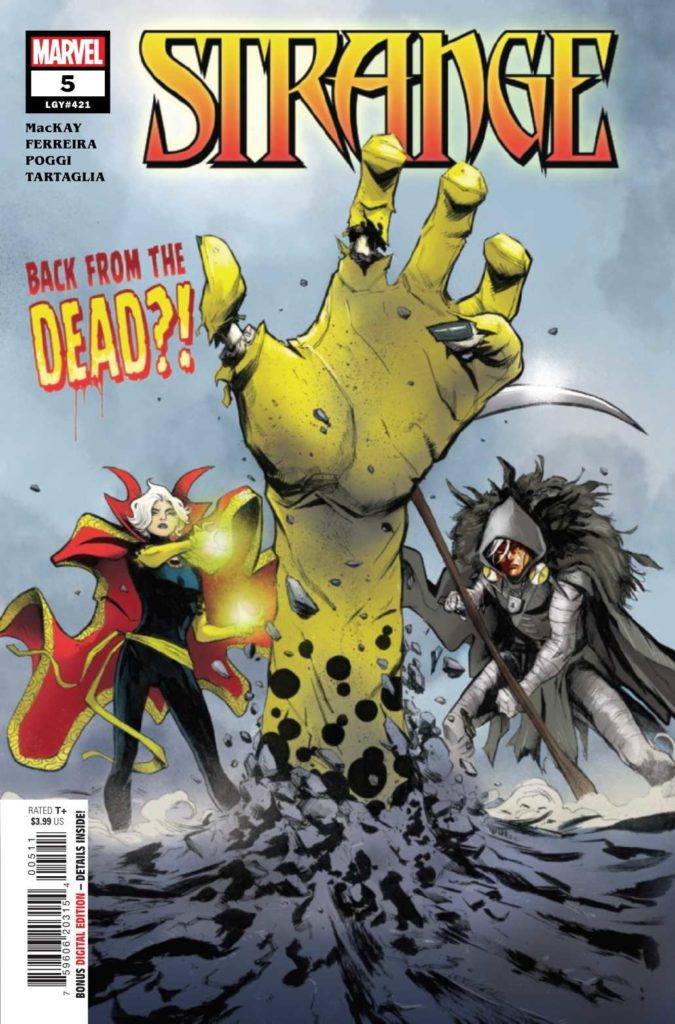 Strange #5
Marvel Comics
Written by Jed MacKay
Art by Marcelo Ferreira
Inks by Roberto Poggi
Colors by Java Tartaglia
Letters by Cory Petit
The Rundown: Clea continues to search for a way to bring back her husband and the Harvestman is revealed.
The Blasphemy Cartel has attacked the Sanctum not knowing the savagery of the new Sorcerer Supreme and especially not her mother. After Umar decimates the Cartel attackers, Clea confronts the mysterious Harvestman about the recent attacks as well as her desire to resurrect Stephen Strange. After getting the information she needs and a rebuke about her mission, Clea goes seeking someone who has died and returned several times.
Clea's quest brings her to the Midnight Mission where she confronts Moon Knight about his resurrection. A conversation the pair will have on the go as Marc continues his mission to protect his people. A conversation that will lead to a new understanding of what might have happened to Stephen while the Harvestman reports to Death and reveals his true identity.
The Story: MacKay delivers a wonderful reveal in this story and the clues leading up to it are brilliantly laid out throughout this series. The story is entertaining and I continue to love the new approach that Clea takes to her role. There are some thrilling moments in the story as well as great moments of tension and humor that are engaging as a reader.
The Art: Ferriera delivers some beautifully detailed art throughout the issue. The camera angles and action are visually thrilling.