Steelworks #3
DC Comics
Written by Michael Dorn
Art by Sami Basri and Vicente Cifuentes
Colors by Andrew Dalhouse and Ulises Arreola
Letters by Rob Leigh
The Rundown: As an old enemy continues to plot against his company, John discovers something that can change the world.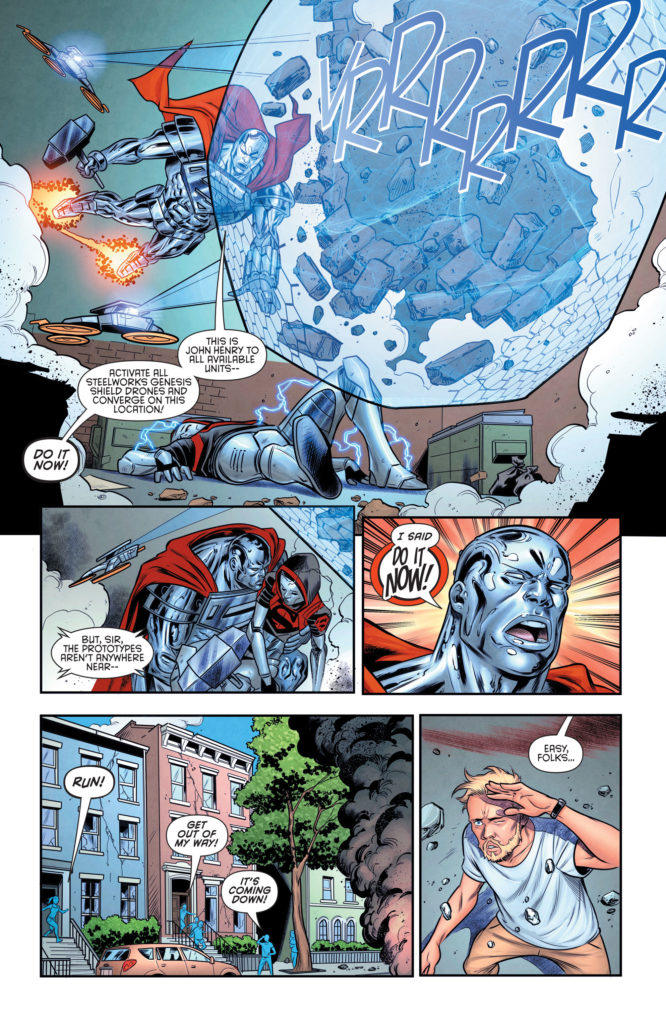 John Henry Irons swoops in to save Natasha in the nick of time with the help of Superman and his family. After getting her back to Steelworks, he discovers that the person who attacked her and the building is causing damage to their systems. At the same time, he consults with Superman about a discovery he's made that could change the world.
As Metropolis prepares for Superman Day in the city, the Supers are on hand to help out as John prepares to give a speech. As his old enemy watches, the robots he sends after the occasion attack and Lana discovers something after being exposed to John's new discovery.
The Story: Dorn continues to craft an exciting and engaging story in this series. This issue has some great action and the mystery continues to be compelling. I love the interplay between John and Superman as well as how both teams work together. The villains continue to be interesting as well and John's new invention is sure to create some interesting conflict. The conflict with Lana is also great and I look forward to seeing how things progress.
The Art: Basri and Cifuentes deliver some beautifully detailed art throughout the issue. I love the visual style and how it takes advantage of the lighter tone of Metropolis.