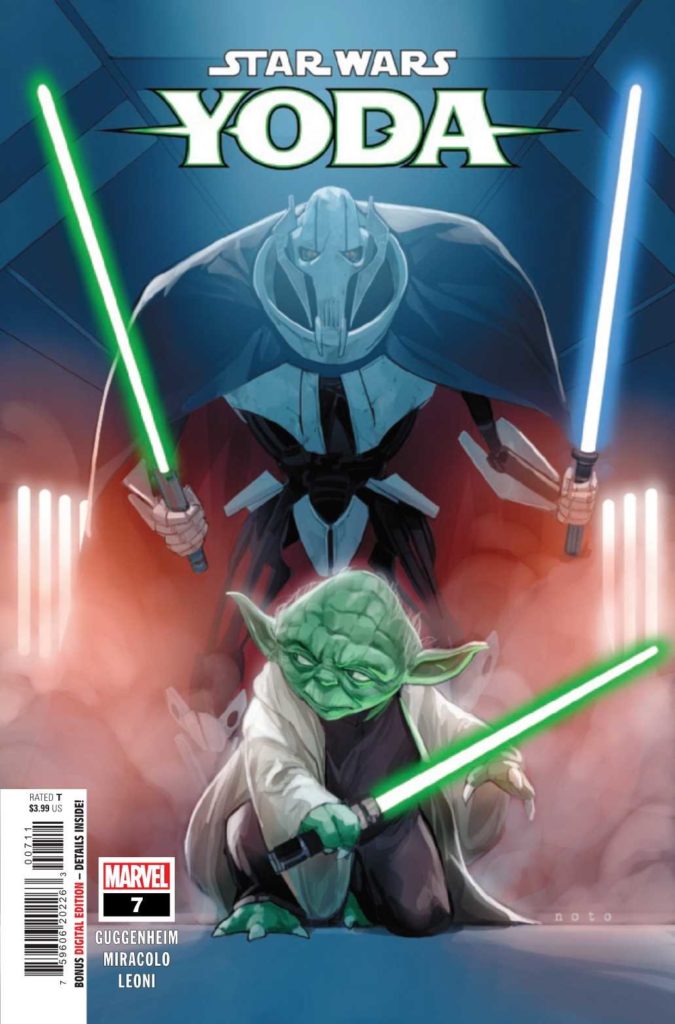 Star Wars: Yoda #4
Marvel Comics
Written by Marc Guggenheim
Art by Alessandro Miracolo
Colors by Annalisa Leoni
Letters by Joe Caramagna
The Rundown: Yoda begins a dangerous mission during the clone wars when the Separatists create a new weapon.
Yoda continues his exile on Dagobah and the voice chiding him for hiding continues to interrupt his meditation. An interruption that will lead him to think back to the height of the Clone Wars and an informant that tells him of a new Separatist super weapon that could turn the tide of the war.
After telling the rest of the Jedi Council what he discovered, Yoda embarks on a covert mission with Anakin Skywalker to discover the new weapon. A new weapon that will bring the two of them and their clone reinforcements face to face with General Grievous.
The Story: I like the return of Clone Wars era Yoda in this issue. I really liked teaming him with Anakin for a covert mission and how the character contrasts with his present self in both action and demeanor. There is some great action throughout the issue and I really enjoyed both the plot, its connection to the character and the action that is being teased to come.
The Art: Miracolo delivers some great visuals throughout the issue. The art has some great energy and style that beautifully enhances and elevates the story.