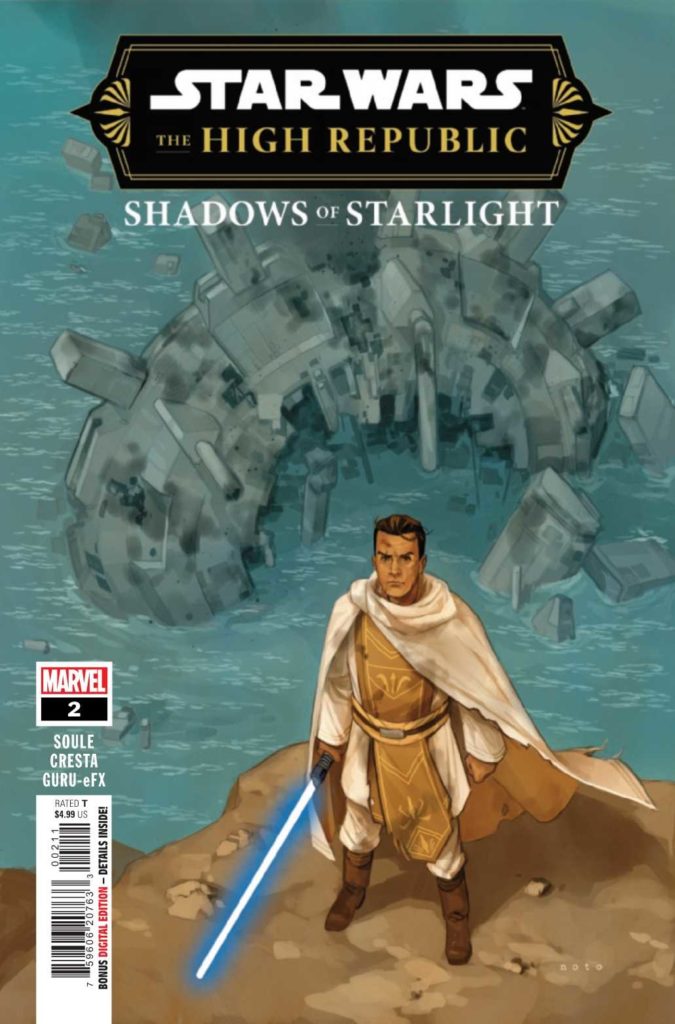 Star Wars: The High Republic Shadows of Starlight #2
Marvel Comics
Written by Charles Soule
Art by Marika Cresta
Colors by GURU-eFX
Letters by Travis Lanham
The Rundown: After the fall of Starlight Beacon, Avar Kriss takes on a new mission.
Starlight Beacon has fallen and the surviving Jedi and their allies gather on a nearby planet. Avar and Elzar deal with the loss of Stellan Gios and Avar blames herself for the loss of the base and the deaths that followed. A sentiment that will keep her from returning to Coruscant and the council.
After finding her way behind the barrier the Nihil have created in the outer rim, Avar turns to locals for aid. When the Nihil discover a Jedi in their midst, they decide to punish the town for helping her. At the same time, Elzar works to find a way to contact Avar and re-establish their connection.
The Story: Soule crafts an entertaining and thrilling story filled with great emotional moments for the characters. The Avar Kriss storyline is compelling and perfectly captures the tenacity and determination of the character. I really enjoy the stakes in this series and not only how it creates great suspense, but great moments of inspiration as well.
The Art: Cresta delivers some fantastic art throughout the issue. The character designs are fantastic and I really joyed the thrilling details and composition of the action.