Star Trek: Strange New Worlds
Paramount Plus
Season 1 Episode 5
Spock Amok
It's a comedy of manners when Spock has a personal visit in the middle of Spock and Captain Pike's crucial negotiations with an unusual alien species.
As the title suggests, this is definitely a Spock-centric episode and it begins on Vulcan with what turns into an interesting moment of emotion from the character. One that is reminiscent of a classic Trek episode complete with the music. A moment that made me smile as a Trek fan. What follows is an episode that focuses on Spock, but not exclusively as other members of the crew have their own adventures.
With the Enterprise being repaired in space dock, Spock has some personal time with his fiancé T'Pring. It's a tense and beautifully paced scene that has a wonderful, humorous undertone that is bolstered by the soundtrack. It's so tense and quietly funny.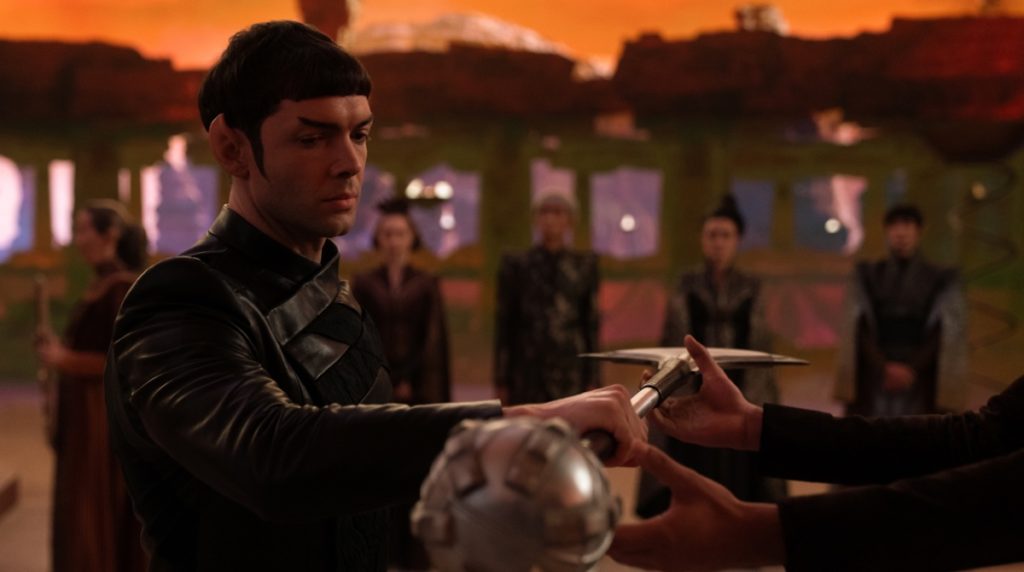 Pike, Spock and Uhura are briefed on their upcoming negotiations and we get to see another Trek Easter egg with Pike's uniform. As the rest of the crew makes their plans for shore leave, negotiations begin unexpectedly and Spock runs into an issue with T'Pring. There is definitely the sense that this episode is going to have a lighter tone and lower stakes in comparison to the last episode and I look forward to it.
The episode takes another fun turn when Spock's attempt to connect with his fiancé leads to a Freaky Friday situation between the two. Does it make a whole lot of sense? Not really. It does serve as a means of connecting the stories and allowing for more humor to come through as the crew members still on the ship engage is some light hearted moments.
La'an and Una have their own adventure outside of the hijinks unfolding and it serves as a great way for the characters to bond with each other while discovering more about the crew and themselves. Their moments have some great dialogue as they attempt to discover fun.
The fifth episode of Strange New Worlds is a complete shift in tone from the last episode and that works in its favor a lot. The ability of Star Trek to be able to tackle high tension and action while also being able to have an episode of people being people is what makes Trek so interesting. The stakes in the episode are low, but its attempts to serve as a look into the characters works.
I will also be reviving the word "hijinks" into my lexicon going forward.