Star Trek: Defiant #9
IDW Publishing
Written by Christopher Cantwell
Art by Mike Feehan
Inks by Maria Keane
Colors by Marissa Louise
Letters by Clayton Cowles
The Rundown: Worf takes on a dangerous mission to bring Starfleet a familiar face.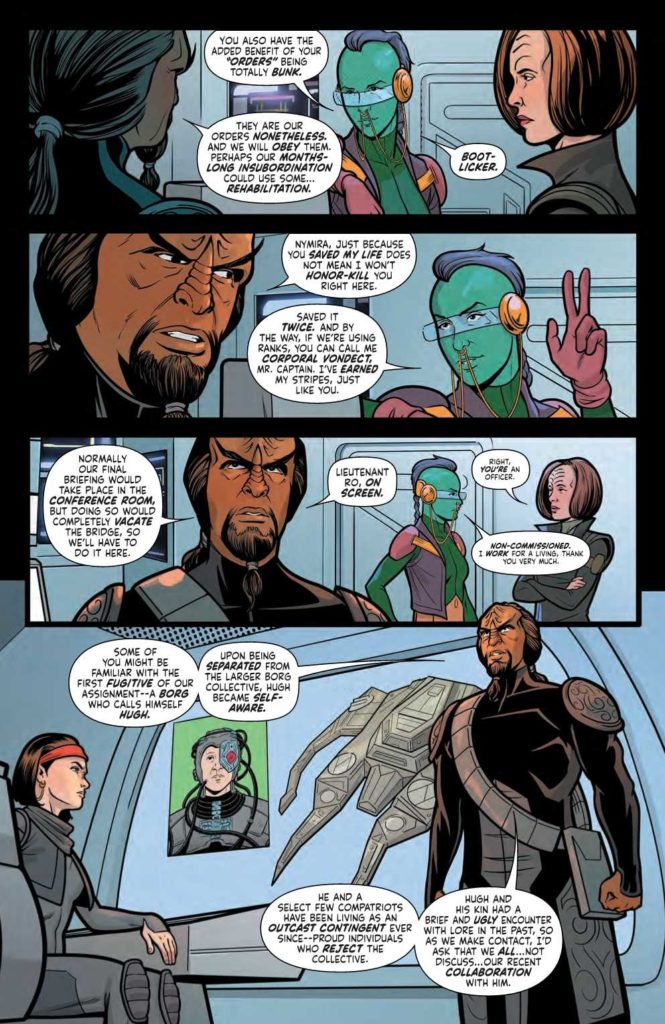 With the Defiant and her new Captain disavowed by Starfleet in the wake of the Day of Blood, Worf speeds through the Beta Quadrant on a covert mission to locate and retrieve someone he knows, former Borg drone Hugh.
Consulting with his new crew, they attempt to track Hugh's movements through the quadrant and the attacks he's been making on rogue Borg elements in the system. When they pick up a ship on sensors, tensions rise as the crew of the Defiant prepares to face their first test.
The Story: Cantwell crafts a new and unique arc for this equally unique cast of characters. The story has some great tension throughout both with the mission itself and with Worf dealing with his newfound status within Starfleet. The drama with the rest of the crew is interesting as well and I look forward to seeing it evolve.
The Art: Feehan delivers some fantastic art throughout the issue. The visuals are exciting and beautifully detailed throughout and elicit the feel of watching Star Trek.