Star Trek #7
IDW Publishing
Written by Collin Kelly and Jackson Lanzing
Art by Mike Feehan
Colors by Lee Lougheridge
Letters by Clayton Cowles
The Rundown: Sisko returns to Deep Space Nine, but his stay will be short lived.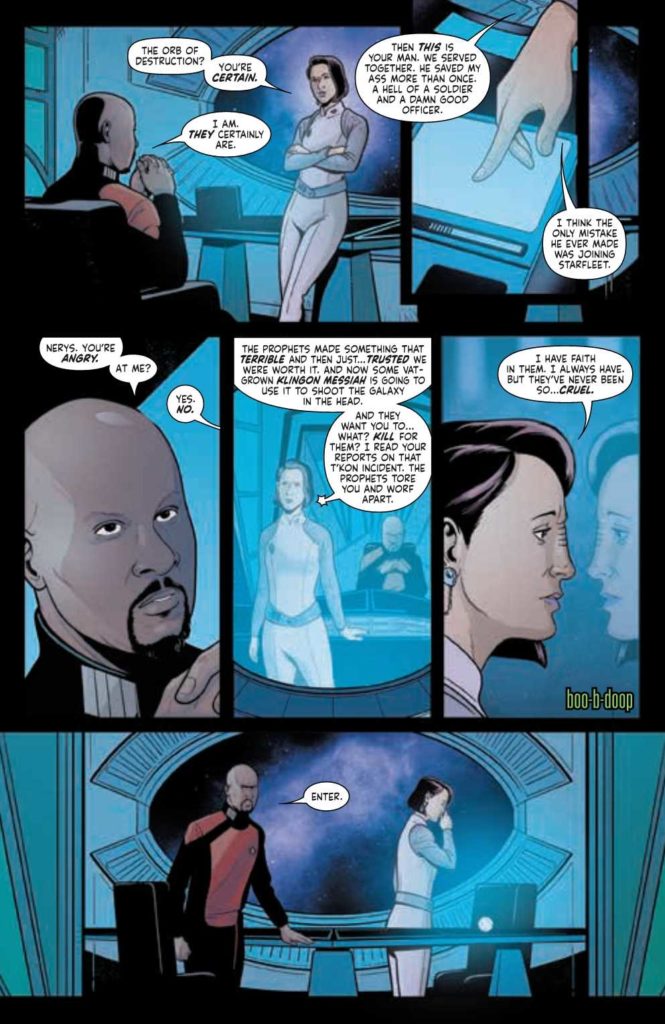 After dealing with the aftermath of Kahless' attacks, the Theseus and her crew return to Deep Space Nine so that Sisko can speak with Kira about the missing Bajoran Orbs as well as take time with his wife, son and young daughter. At the same time, the crew gets some much needed shore leave, but Tom Paris is starting to sense that things in his life are shifting.
After picking up a new crew member from the Cerritos, the Theseus heads to Cardassia Prime to investigate the missing orbs and finds itself in the middle of a battle. A battle that will lead to an invitation from the surface and an unexpected meeting with the planet's new leader.
The Story: Kelly and Lanzing craft an engaging and compelling story that brings the action back where I wanted it to go, Deep Space Nine. The story also does a great job of not only delivering great drama, but creating new drama as Sisko makes a decision about his future. The action in the story is great and it culminates in a moment of genuine surprise. A surprise I wasn't expecting and one that has made me excited to see what happens next.
The Art: Feehan delivers some great visuals throughout the issue. The imagery is truly immersive and gives the reader a sense of the places the characters are and what emotions permeate the moments.