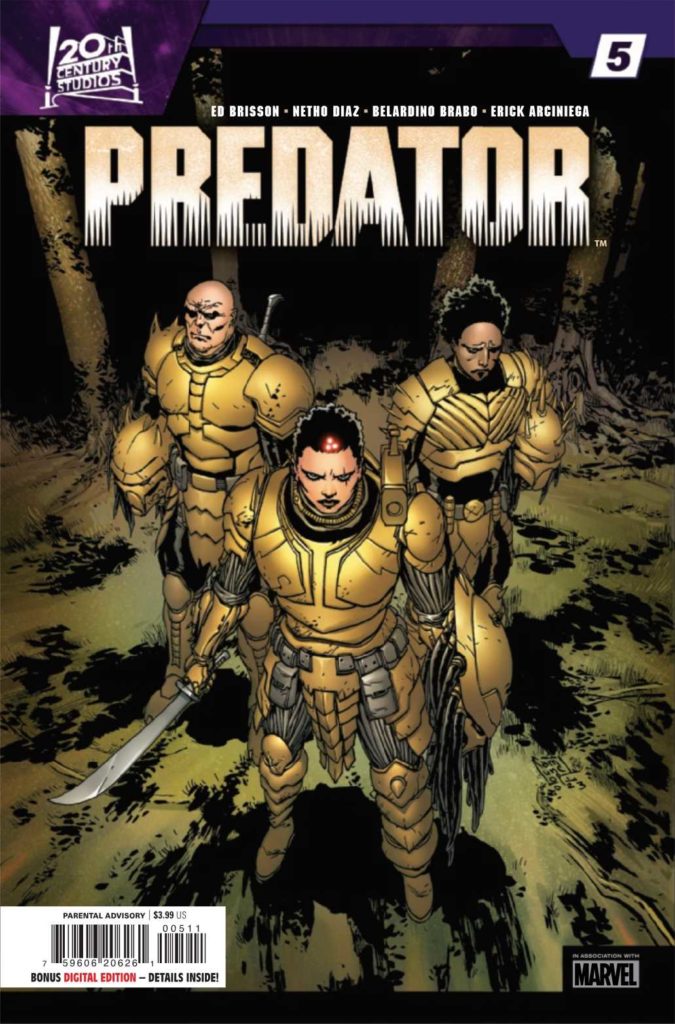 Predator #5
Marvel Comics
Written by Ed Brisson
Art by Netho Diaz
Inks by Belardino Brabo
Colors by Erick Arciniega
Letters by Clayton Cowles
The Rundown: Theta and her allies face off against the Predator for a final battle.
The Predator attacks Paolo and Omar with Paolo barely escaping with his life. With the creature stalking the decks of the ship, Theta and Allen suit up in order to take it on while Isla deals with her guilt for trying to take over the ship with Kiyoshi.
As the group meets back up with some unexpected help from both Isla and the recently freed Awja, the group fights to take back the ship as they defend themselves against a determined Predator who wants all their heads.
The Story: Brisson brings this arc to a beautifully violent and exciting conclusion while leaving the door open for even bigger stories to come. The closed, confined environment of the ship adds to the rising tension and terror of the story and everything comes together for a great final standoff against the Predator on board. I like the pure action, horror and adventure tone of this series and look forward to seeing what comes next.
The Art: Diaz delivers awesome art throughout the issue. The visuals are fun, brutal and filled with great detail and the imagery does a brilliant job of utilizing the environments to full effect.