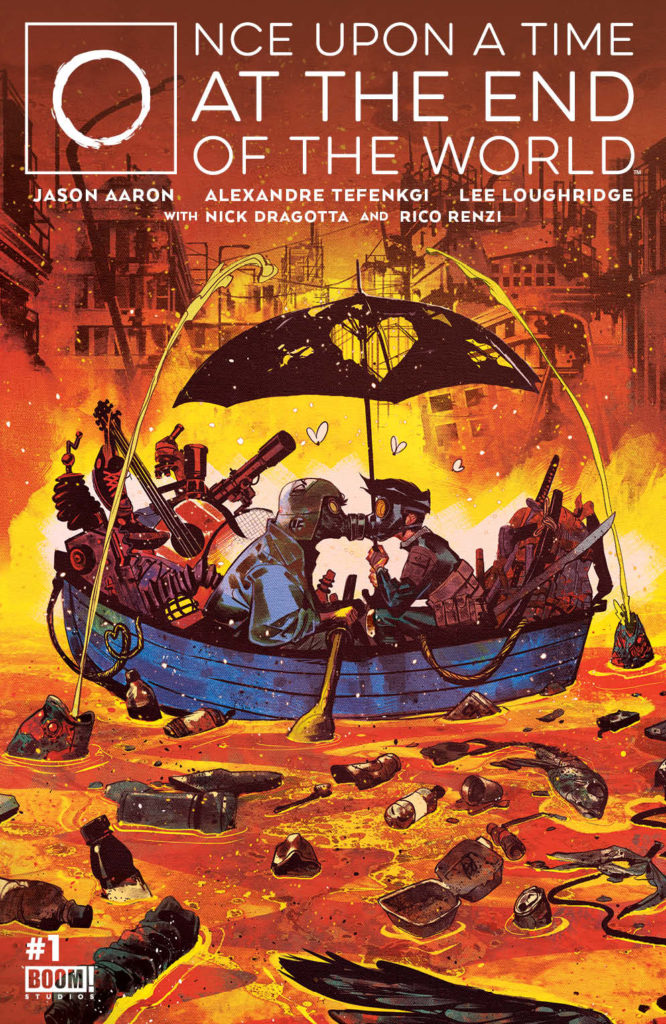 Once Upon a Time at the End of the World #1
BOOM! Studios
Written by Jason Aaron
Art by Alexandre Tefenkgi and Nick Dragotta
Colors by Lee Lougheridge and Rico Renzi
Letters by AndWorld Design
The Rundown: A young woman fights to survive a living hellscape and the young man who has decided to tag along with her.
A woman traveling through a post apocalyptic wasteland by boat finds herself under attack by a group of creatures that have been mutated. After one of them damages her boat, she is forced to disembark at a high rise building partially submerged. As she battles even bigger monsters emerging from the sea, she doesn't realize that she is being watched.
In the aftermath of her battle, she meets the young man watching her, a young man who has never left the building called Maceo. After a series of awkward encounters, Mezzy decides to grab some supplies and leave. After hitting the road, she turns to discover that Maceo is following her and their adventure begins. An adventure that will take some dark turns before the the end of the world.
The Story: Aaron crafts an entertaining and engaging story in this first issue with some great twists, comedy and an awesome ending that compels me to want to read more. The story seems to be setting up a post apocalyptic love story with these two characters, but there are some bigger themes playing out in the story as well and I want to know more about these characters as individuals.
The Art: Both artists bring beautiful visuals throughout the issue and dazzle the viewer with exciting action along with a beautiful world being crafted.