Oliver #2
Image Comics
Written by Gary Whitta
Art by Darick Robertson
Colors by Diego Rodriguez
Letters by Simon Bowland
Things are getting more dangerous for both Oliver and the IVC's watching over him after an escaping IVC trades his life for information.
When the Lord Governor gets word that a possible IVC/Human hybrid is living in the settlements, he sends a team into London to find him in hopes of finding the boy and learning who the father is.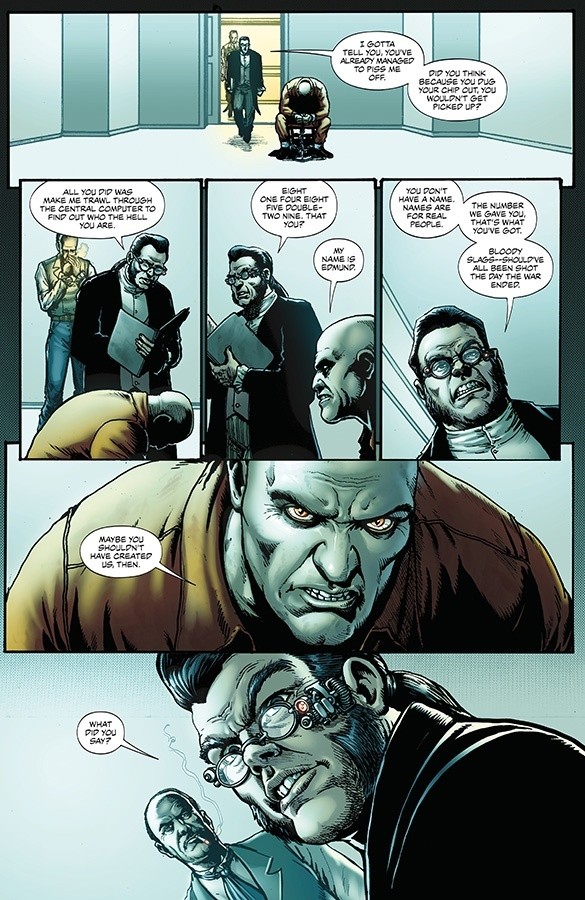 When Oliver sees the IVC's heading to and from work, his natural curiosity takes over and he wants to know what they do during the day. Even though he is warned off by Prospero, Oliver takes it upon himself to change his appearance to fit in.
What he finds when he finally goes to the factory are harsh conditions and abuse being handed down to all the IVC's. When the food dispenser stops working, Oliver goes to one of the guards to lobby for more food for his friend. What follows is a violent encounter that shocks everyone, including Oliver.
When they return to London, Prospero reveals that there is more to Oliver's story that he's been told.
This issue of Oliver is revelatory and visceral in its storytelling. Gary Whitta is crafting an engaging and entertaining ride with characters that are interesting. The dialogue throughout the issue is great and the pace of the storytelling is perfect. The story flows in a way that captures the reader's attention and holds it as new and intriguing plot details are revealed.
Darick Robertson does an amazing job with the art in this issue. From the brilliant use of shadows to the amazing details in the characters and backgrounds, all of the art perfectly matches the tone of this story.