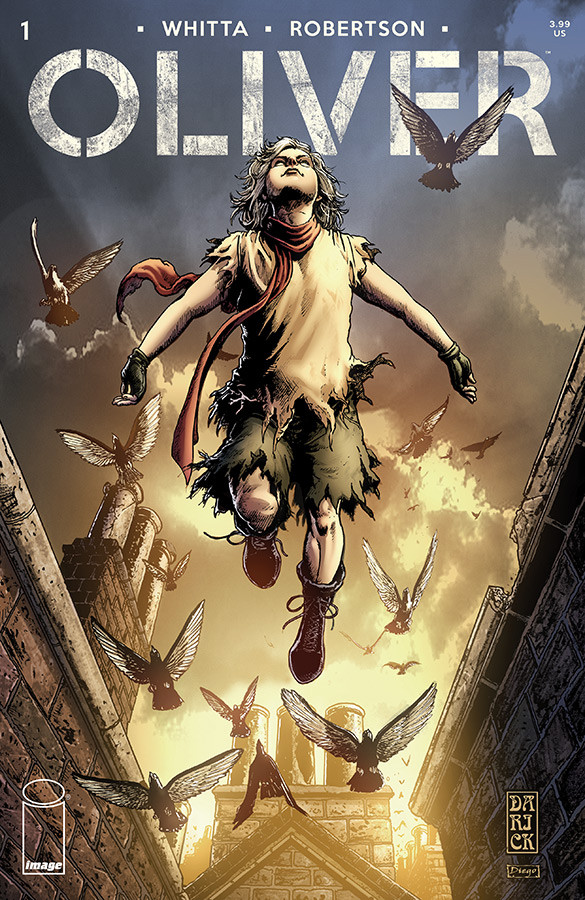 Oliver #1
Image Comics
Written by Gary Whitta
Art by Darick Robertson
Colors by Diego Rodriguez
Letters by Simon Bowland
In a post-apocalyptic London, a figure moves through the destruction and desolation to find a group of soldiers living in a small community among the rubble.
The figure is a woman. A woman who is ready to give birth.
After she delivers the child and dies, the men must decide what to do with him. The decision is made to keep him and raise him. A decision that has its share of risks when it's finally revealed who these men are, why they are all in the ruins of London and why they all look the same.
After naming the boy Oliver, one of the soldiers, Prospero, raises him and finds that he has abilities that are far from normal, including the ability to get into trouble. When Prospero takes Oliver deeper into the city to tell him the truth about who he is and how Oliver is different, we find out that there is another mystery to Oliver that no one has shared with the boy.
This is a really entertaining and interesting first issue. I enjoyed the allusions to literature with the names taken from works of Shakespeare and that relevance to the soldiers themselves. Whitta has created an interesting premise and cast of characters here that I am interested in seeing explored further. The dialogue and pace of the story are both great and there was never a wasted moment in the story progression. Definitely interested in learning the mystery of Oliver and where this story goes next.
The art by Darick Robertson is amazing. There are some great visual moments in this issue and the use of shadow is brilliant.