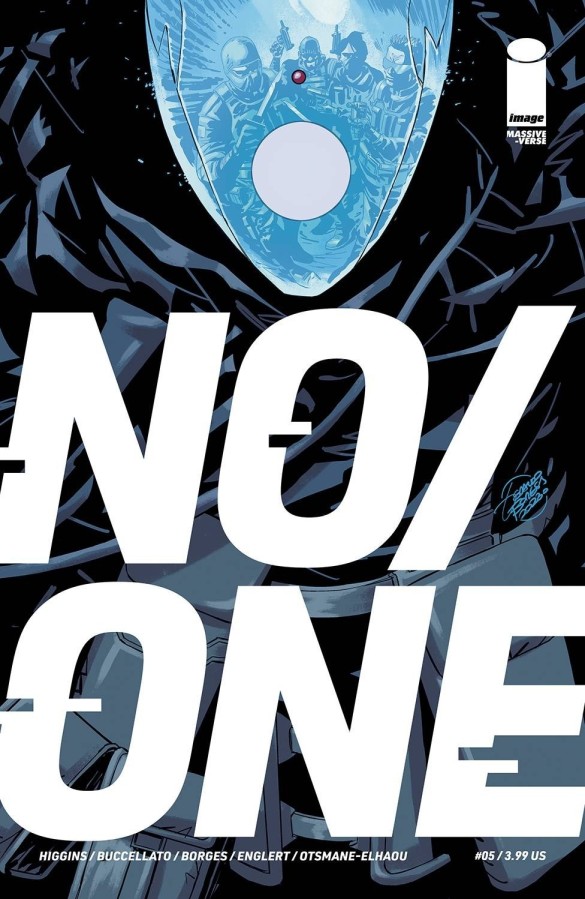 No/One #5
Image Comics
Written by Kyle Higgins and Brian Buccellato
Art by Geraldo Borges
Colors by Mark Englert
Letters by Hassan Otsmane-Elhaou
The Rundown: Aaron Kern gets a second chance while No/One fights to keep him inside.
After his confession, Aaron Kern gets a high priced attorney who is fighting to get him released because of the lack of evidence. Even after his lawyer is attacked by No/One and warned about letting Aaron getting out, things continue to take a dark turn. Even Aaron's father is shaken by the news that his son might go free.
While No/One finds himself fighting off a heavily armed group at the lawyer's office, Julia finds herself dealing with issues of integrity when she's directed to change the course of her podcast.
The Story: The story takes off with a huge twist that I didn't see coming and the suspense involving Aaron and No/One trying to keep him locked up is compelling. I love the contrast between No/One and Aaron's father trying to keep him locked up and Julia fighting to keep her journalistic integrity. The story has great action within it and builds on its suspense brilliantly to keep me wanting more. I also recommend the companion podcast series as well. It adds more layers and depth to the story and its characters.
The Art: Borges delivers fantastic art that brilliantly contrast awesome character moments and blistering action beats.