Nemesis Reloaded #1
Image Comics
Written by Mark Millar
Art by Jorge Jimenez
Colors by Giovanna Niro
Letters by Clem Robins
The Rundown: Nemesis invades Los Angeles with a deadly plan for the city.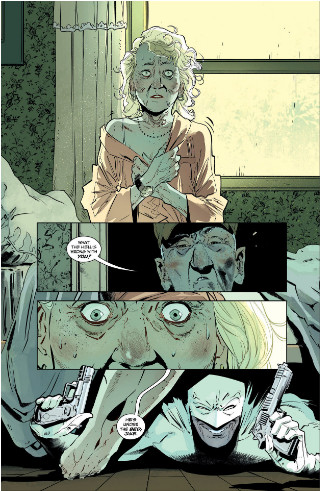 An older couple in middle America get an unexpected visitor before a gang kingpin in Los Angeles finds himself ripped from his car in a daring kidnapping. A kidnapping that will lead to the end of the leaders of the biggest gangs in the city thanks to a new player in town. In the aftermath, those that are left join him for the next part of his plan.
After the city elects a new mayor who promises to put more police on the streets of the city, Nemesis decides to pull a heist that will get their attention. One that will lead to a slaughter and a message to the city that will make things a lot more interesting and a lot more dangerous.
The Story: Millar crafts an entertaining and engaging reboot of the Nemesis character. The story is filled with a gleeful violence that serves both the story and character wonderfully while also allowing the reader to immerse themselves in a new, interesting and dangerous world. The plot is compelling and the dark nature of it makes me giddy to see what happens next.
The Art: Jimenez is one of my favorite artists and his work in this first issue if bold, beautifully detailed and visually exciting.