Ms. Marvel and Moon Knight #1
Marvel Comics
Written by Jody Houser
Art by Ibraim Roberson
Colors by Erick Arciniega
Letters by Travis Lanham
The Rundown: As the robot attacks continue, Kamala seeks help from Moon Knight.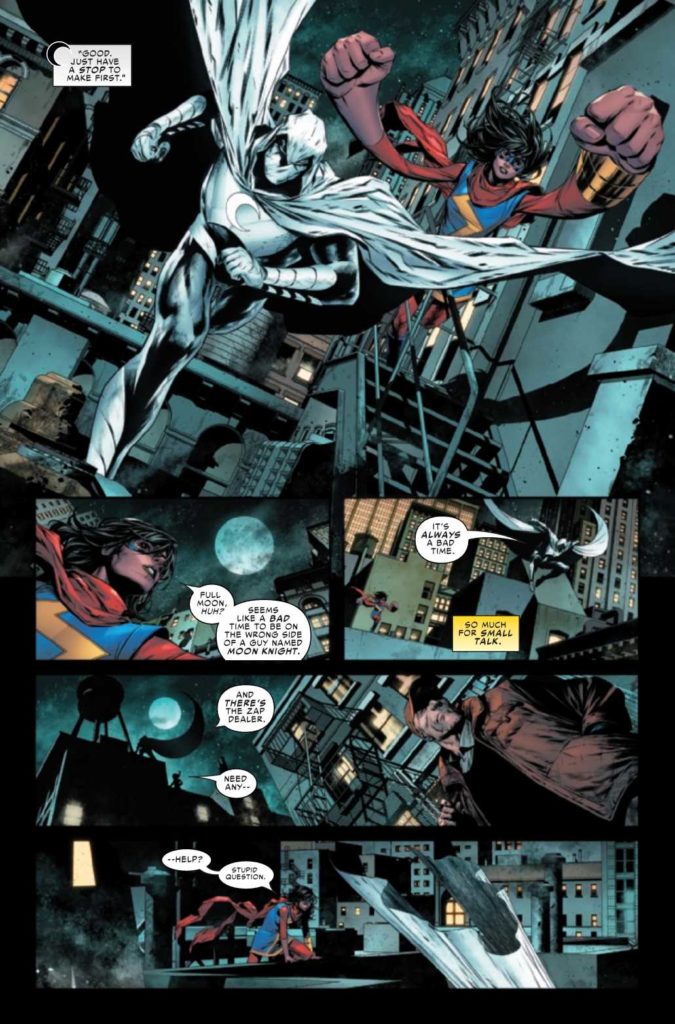 A series of attacks by strange robot creatures in the city gets the attention of Moon Knight. At the same time, Kamala tracks the creatures herself after her last run in with them with Wolverine. She decides to pay a visit to Marc at the Mission to enlist his help.
As the two take to the streets, Kamala finds a building that is overrun by the creatures. As they both discover that they cannot be taken down the same way twice, the pair change tactics to free the hostages in the building before Marc realizes that he might not be the only fist of Khonshu being targeted.
The Story: Houser delivers an entertaining story in this issue. The story does a great job of showcasing how unexpected and intriguing that this team up is. There is a fun level of tension in the story between the characters and I like seeing Moon Knight through the eyes of Kamala Khan. There is a fun, fresh perspective to the darkness of the character that was refreshing to read.
The Art: Roberson delivers some fun, exciting and beautifully detailed imagery in the story. The action is visually exciting and the characters look great.