Moon Knight Black, White & Blood #2
Marvel Comics
Written by Benjamin Percy, David Pepose and Patch Zircher
Art by Vanesa R. Del Rey, Leonardo Romero and Patch Zircher
Colors by Chris Sotomayor
Letters by Cory Petit
The Rundown: Three new stories explore the complicated hero known as Moon Knight.
The Empty Tomb
Marc Spector is desperate to end his connection with Khonshu. Desperate enough to seek out the help and advice of Doctor Stephen Strange. Strange reluctantly gives him an object that will help him find Khonshu's seat of power in the desert. An object that will lead Moon Knight to make a choice. One that will have dark repercussions.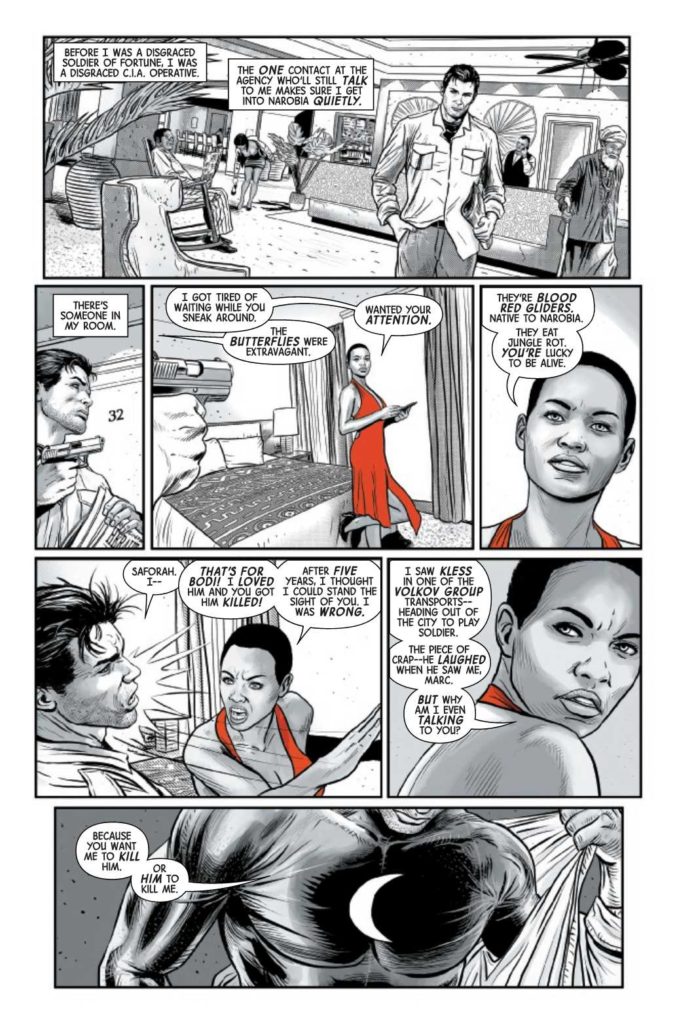 Percy delivers a dark, sad tale in this story. It brilliantly encompasses the complicated nature of the character and his psychology.
A Hard Day's Knight
A bloody Marc Spector walks into a local diner to have a conversation with the others in himself when he wants to know where his latest round of physical injuries came from. What follows are Jake, Steven and even Khonshu telling him of their adventures in control.
A fun and entertaining short story that has some great action and humor.
Blood Red Glider
A face from Marc's past resurfaces when a message prompts him to return to Africa to hunt down the man responsible for the death of someone he knew. A mission that will bring him face to face with his own past as a mercenary.
A straight up action romp with awesome fights and a great moment of introspection from the character. The art is beautifully detailed and brutal.