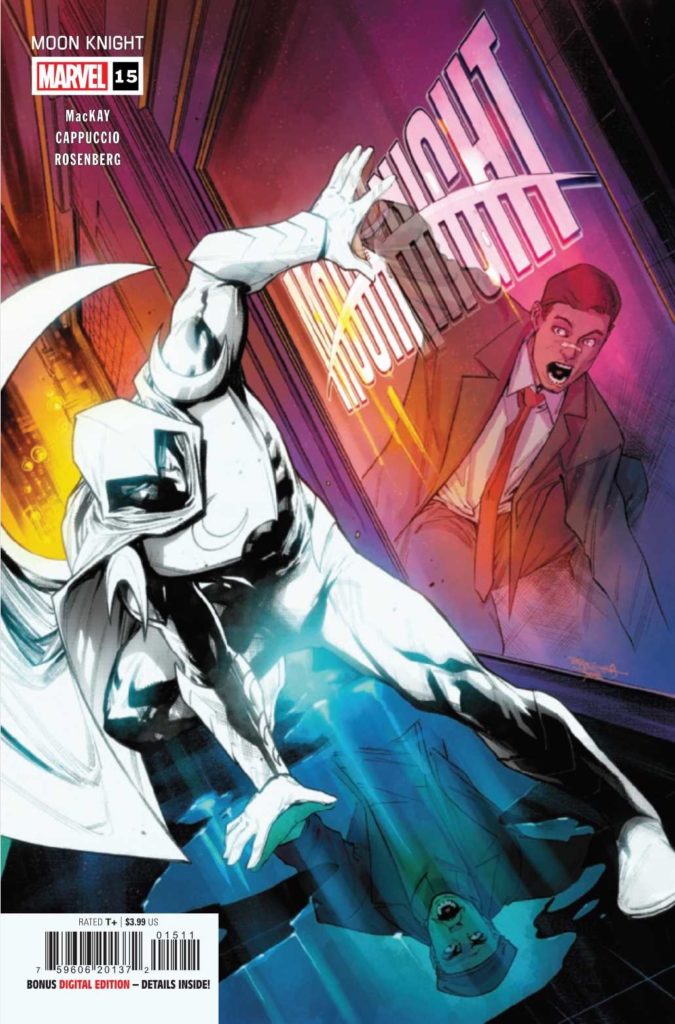 Moon Knight #15
Marvel Comics
Written by Jed MacKay
Art by Alessandro Cappuccio
Colors by Rachelle Rosenberg
Letters by Cory Petit
The Rundown: To get information on the people trying to take him down, Marc Spector will try a new tactic with some familiar faces.
Marc continues his sessions with his therapist and decides that it's the right time to talk about his D.I.D. A subject that reveals that Marc has decided that working with both Jake and Steven is better than keeping them away. They decide that the best way to get to The Structure and its leader is to use their skills to gain information. Steven goes after intel on the assassins while Jake rattles his underworld contacts for info on vampire activity.
After learning more about the people hunting him, Marc decides that the next thing to do is tell the people in his life the truth about his D.I.D. A move that will yield surprising results from the people he calls friends as Moon Knight prepares for the next part of his plan.
The Story: A fun, entertaining and engaging issue from start to finish. I enjoyed the humor and the tension in the issue as well as how the characters of Steven and Jake are incorporated into it. It was great to see Marc finally realize that something was missing and how those missing pieces were putting his mission at risk. I can't wait to see how the characters are utilized going forward and what that means for Moon Knight and his mission.
The Art: Caappuccio delivers some beautifully dark and stylish art throughout the issue. The visual tone of the art perfectly captures the different worlds of these characters and how they live within them.