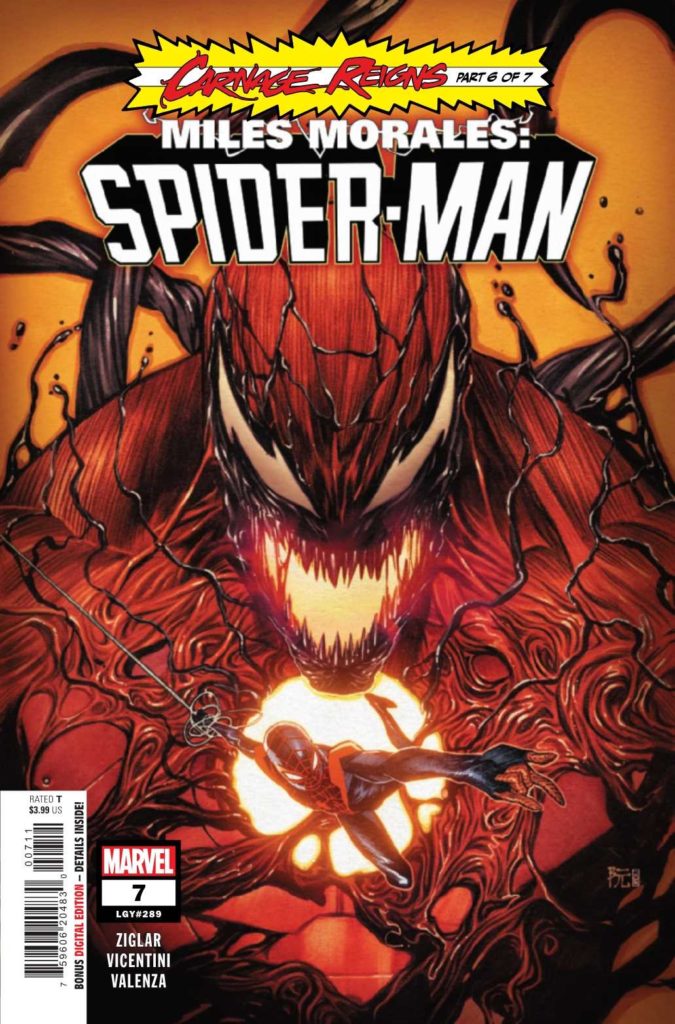 Miles Morales: Spider-Man #7
Marvel Comics
Written by Cody Zigler
Art by Federico Vicentini
Colors by Bryan Valenza
Letters by Cory Petit
The Rundown: Miles teams with a group of villains to take down Carnage as his power continues to grow.
Miles has been recruited by Agent Gao to work with Shocker, Taskmaster and others to take down Carnage as he continues to attack them. At the same time, a group of people outside the city get some stole tech and find themselves infused with Carnage's power as well.
The fight continues to grow worse for Miles and his group as it looks like Carnage is just toying with them. When Gao gets a notification of Stark tech in the area, everyone is surprised when Tony arrives with tech to stop Carnage and a gift for an injured Miles Morales.
The Story: Sometimes in a comic, you want to get away from big, Earth shattering conflicts and just read something cool and Zigler does that with this comic. Teaming up Miles with a bunch of villains to take down Carnage is just pure fun and makes for an enjoyable story from start to finish. Everything leading to the conclusion is also fun and exciting and makes me look forward to seeing what comes next for Miles.
The Art: Vicentini delivers some fantastic art throughout the issue. The visuals are thrilling and what I want to see in a battle between Miles and Carnage.