Maskerade #1
Dark Horse Comics
Written by Kevin Smith and Andy McElfresh
Art by John Sprengelmeyer
Colors by Giulia Brusco
Letters by Andrew Thomas
The Rundown: In a dangerous city, a dark figure stalks those who have wronged her.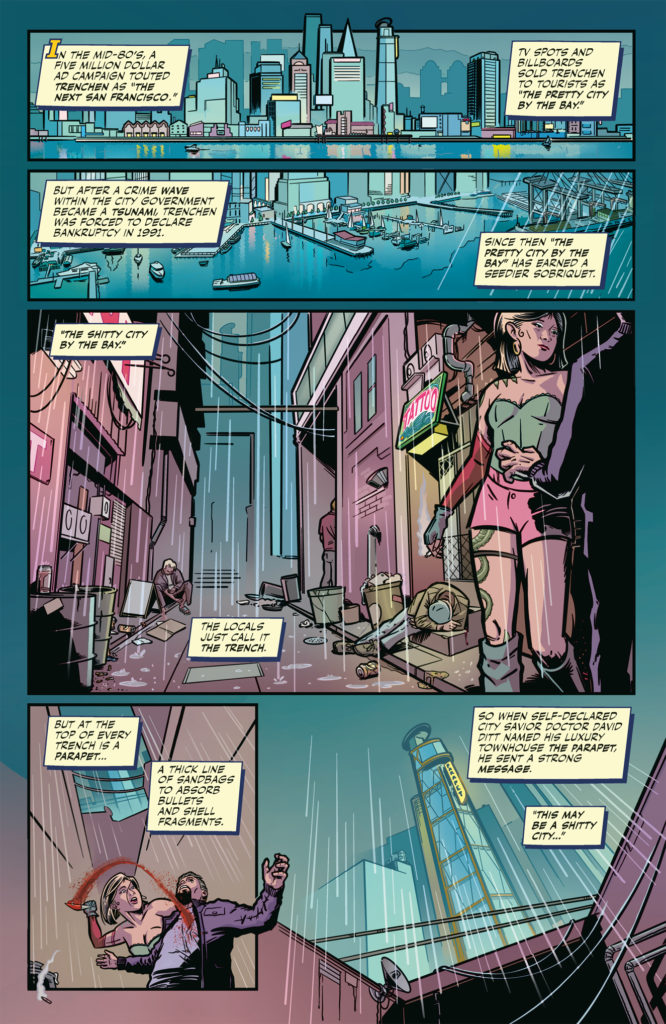 Trenchen is a city that had promise. Unfortunately, its best days are behind it and crime has taken over including a murder in an affluent high rise building. News producer Dwayne finds his career in tatters after a personal dalliance and is offered the opportunity to work for an up and coming social media influencer.
At the same time, a powerful man finds himself being targeted by a masked figure with an unusual ability and the skill to kill. Unfortunately, the man will discover that he is part of something bigger when the figure reveals themselves to be someone from his past.
The Story: Kevin Smith and Andy McElfresh deliver a solid first issue with this story. There is enough mystery to keep the reader interested and the world building of the city and its characters is engaging. I enjoyed the tone of the story a lot and there are some really entertaining and amusing moments throughout with both the characters and the premise.
The Art: Sprengelmeyer offers some wonderfully detailed art throughout the issue. The tone and style of the art have a classic feel and I enjoyed how the art matches the tone of the story.