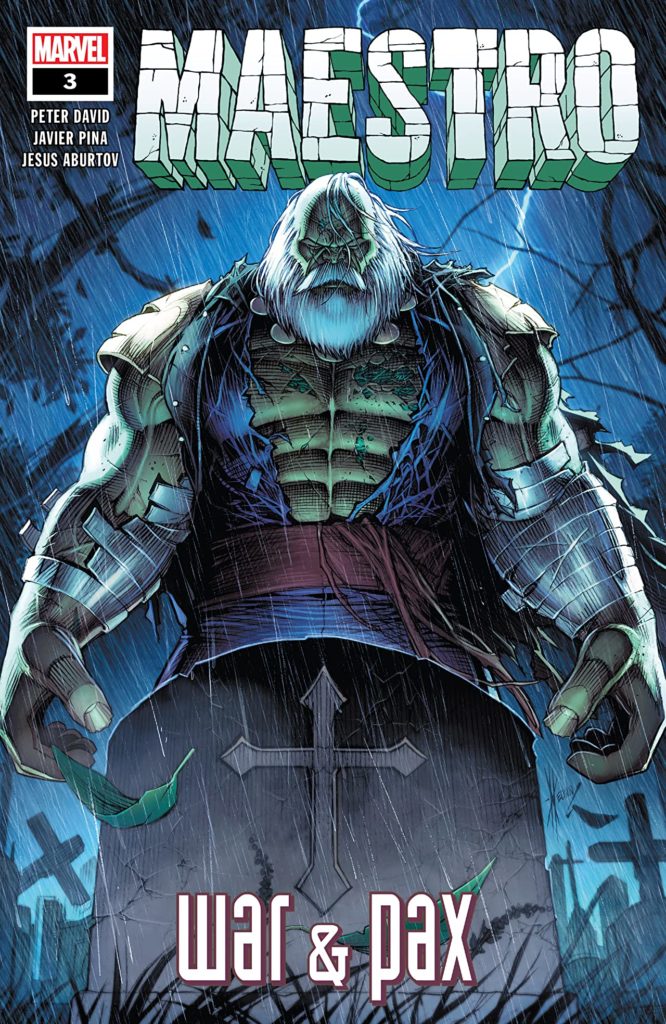 Maestro War & Pax #3
Marvel Comics
Written by Peter David
Art by Javier Pina and Wilton Santos
Inks by Javier Pina and Oren Junior
Colors by Jesus Aburtov
Letters by Travis Lanham
The Rundown: The Pantheon has captured Banner, but can they hold him indefinitely?
After drugging and capturing the would be despot, the Pantheon has to decide what they are going to do with him. Unable to revert him back to his Banner form, it is only a matter of time before the Hulk emerges and seeks revenge on his would be jailers. Knowing this, they determine the only way to force him to revert is to invade the one thing that is vulnerable, his mind.
After showing him how long the Pantheon has been interested in him, the shock of one of his darkest memories brings out the rage he's been suppressing and he attacks the group, slaughtering everyone in his path. His rampage reaches a crescendo until a ghost from his past appears . A ghost that partially made him into the man and the monster he would eventually become.
The Story: Well plotted, deliberate and emotional. Peter David goes deep into the characters past and showcases the broken man who becomes the Maestro. As interesting as the story is, the actions of the Pantheon are equally as interesting if not more compelling in this issue. I enjoyed the way the plot developed and unfolded and was impressed with the twist ending.
The Art: Pina and Santos deliver some exciting and impressive art throughout this issue. Not only is it brutal and brilliantly detailed, but there is great attention to expression.