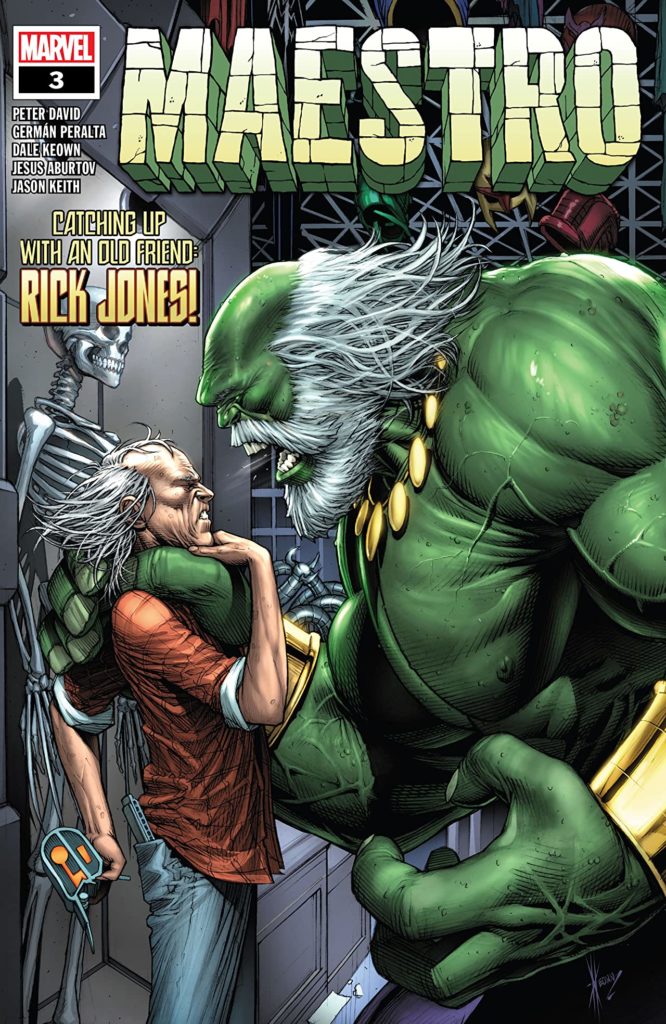 Maestro #3
Marvel Comics
Written by Peter David
Art by German Peralta
Colors by Jesus Aburtov
Letters by Ariana Maher
The Rundown: Hulk will discover who rules and an old friend will help him discover a new path.
Banner finds himself in the presence of the Maestro and it turns out to be an old friend, Hercules. As the two former allies greet each other, Hercules decides that the best way to honor his friend being alive is to knock him into the center of the city. While the two powerhouses spar, the people witness the power of them both and when a rusty Hulk gets knocked underground, he finds people who have someone he needs to see.
After finding himself in the presence of his oldest friend, he discovers the true nature of Hercules' rule of the city and decides that he's heard enough. He has no interest in saving people anymore after what they did to the planet, but he is interested in ruling and the only way he can do that is with the one thing he has that Hercules doesn't, brains.
The "Relics" short at the end of the issue is great as well as it showcases Rick's journey and the tragedies he faces along it.
The Story: Peter David dives in deep with this issue. Not only does he continue the evolution of Banner, but he also brings him face to face with his past in the form of Rick Jones. I loved the scene between the two of them and how their philosophies differ. It's a great contrast the illustrates where Banner is heading psychologically. The story has a great narrative flow as well and the cliffhanger makes me want to see where the story goes next.
The Art: German Peralta does some excellent work with the art in the main story. There is a weary, seething anger in Hulk that Peralta captures and brilliantly contrasts it with the insane bravado of Hercules. Dale Keown and Jason Keith do some excellent work as well on the "Relics" short, which is beautifully detailed and dark.