Guardians of the Galaxy and The Hobbit star Lee Pace stars in a new sci-fi alien invasion film from writer/director Joe Miale. The film Revolt, previously titled Prisoners of War, takes place in South Africa after the world is invaded by hostile alien forces. Pace plays Bo, a soldier captured during the invasion who manages to escape and meet up with aid worker Nadia, played by Berenice Marlohe (Skyfall). Together, they must survive and find a way to fight back.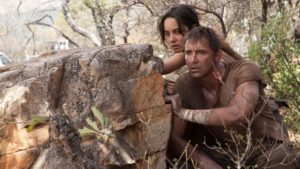 The trailer is definitely reminiscent of movies like District 9 with its African setting. It will be interesting to see if the movie elevates the genre or if it falls on the same tired alien invasion tropes that have been used before. Tell me what you think in the comments below.
The story of humankind's last stand against a cataclysmic alien invasion. Set in the war-ravaged African countryside, a U.S. soldier and a French foreign aid worker team up to survive the alien onslaught. Their bond will be tested as they search for refuge across a crumbling world.
@superpoweredfan on Twitter