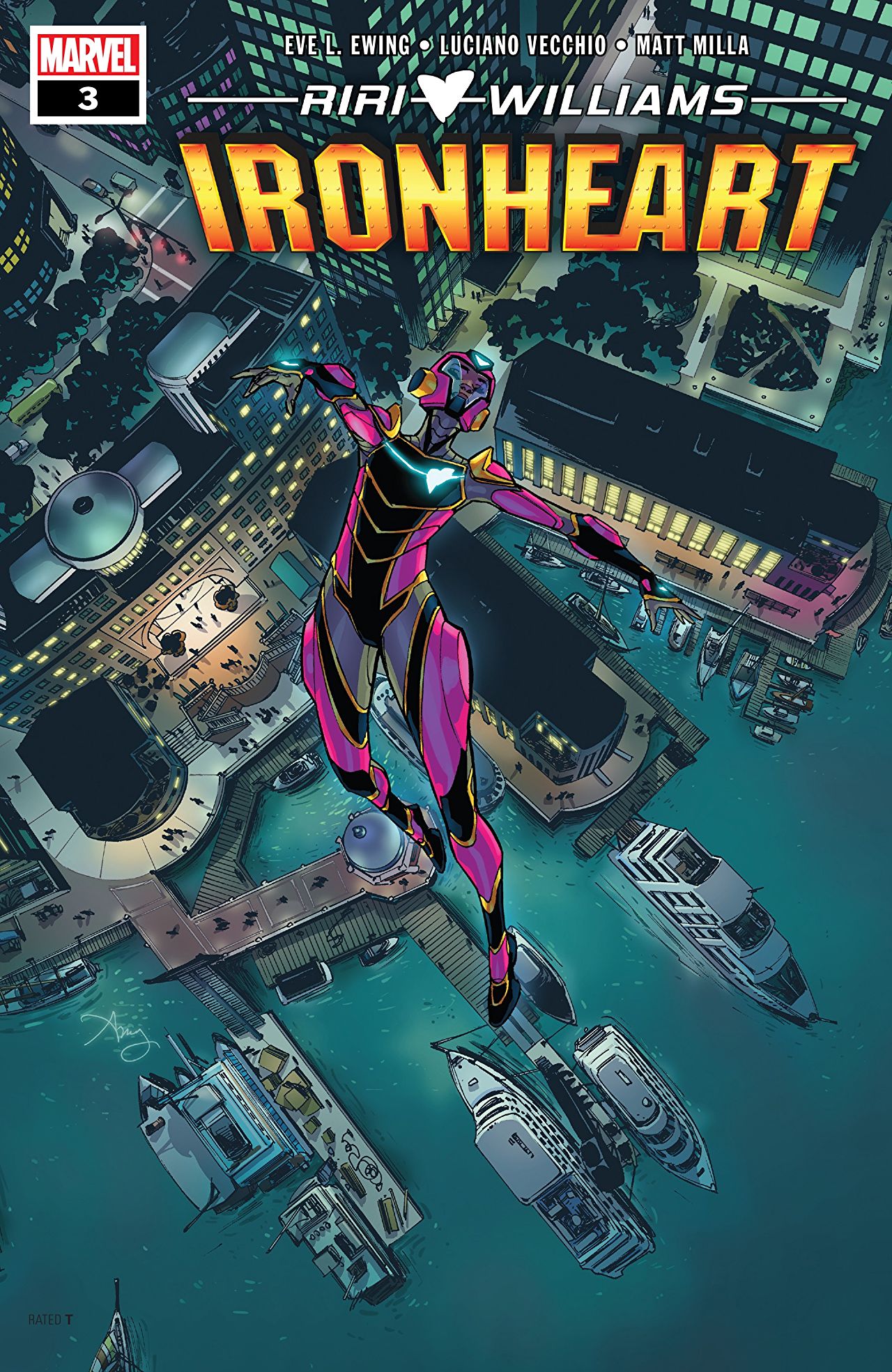 Ironheart #3
Marvel Comics
Written by Eve L Ewing
Art by Luciano Vecchio
Colors by Matt Milla
Letters by Clayton Cowles
Riri Williams is going to discover that going solo as a hero is harder than she imagined.
As Riri continues investigating her missing friend, she thinks back to her memories of Daija and how she protected a scared young girl navigating a new situation. She keeps coming up with nothing even with the help of Xavier. Like everyone else in her life, Riri's mother and Xavier try to get the determined young woman to take some time and come back to the search with fresh eyes, but Riri isn't having it.
When she finds a clue that gets her closer to the motive behind the pickpocket attacks, Daija shows up on the news as a rescued runaway. When Riri decides to visit her old friend as Ironheart, she finds her old friend keeping secrets and in the crosshairs of a villain bent on killing the young hero before she gets too close to the truth.
This is a well paced and well written mystery. Ewing continues to evolve and grow Riri into an engaging and interesting character with relatable flaws and doubts. What also works in this series and this issue is Ewing has developed Riri's supporting characters as interesting and engaging people as well. Riri's support system are proving to be an asset she might not appreciate in the moment, but the reader recognizes that she needs. The dialogue between the characters flows naturally and nothing feels forced or fake.
If there is one glaring negative, it's the fact that the villains have yet to be memorable from one issue to the next. So far they've been forgettable foils that seem to exist to drive the plot, but not the character in any significant way. Hopefully, the deeper Riri dives into this mystery, the more significant the mastermind becomes.
Luciano Vecchio's art is amazing. It is so detailed and beautiful with visuals and colors that leap off the page. Every page feels vibrant and full of energy and matches the tone of the story brilliantly.