Impact Winter #1
Image Comics
Written by Travis Beacham
Art by Stephen Green
Colors by Matt Hollingsworth
Letters by Andworld Design
The Rundown: Before her life completely changes, Darcy recounts the moment she found her purpose.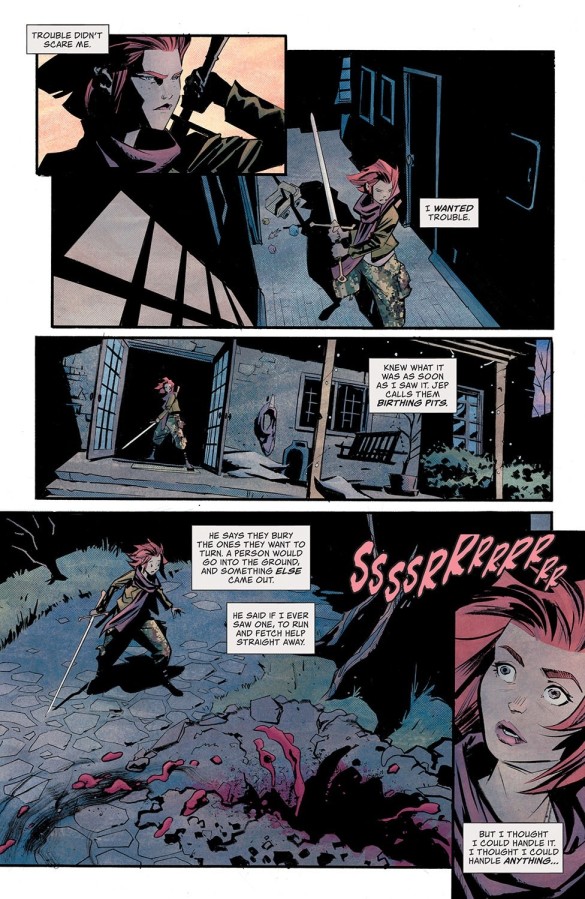 It's been a few years since the impact changed the planet, driving humanity underground as vampires took over the Earth. Young Darcy has found a way to go on patrol with Godwin and finds something she can give to her sister Hope. Unfortunately, she also finds herself facing a blighter on her own. After being saved by Godwin, Darcy decides to train harder so that she can hold her own.
In the midst of her training, she gets closer to Godwin, but a mission separates the pair and Godwin goes missing. When a call for help from a local abandoned Inn comes in, Darcy races to help only to find a turned Godwin and a fight for her life against someone she has grown to care for. A fight that a very interested party is watching from the shadows.
The Story: As a fan of the Audible Original series, Beacham crafts a wonderful companion to the main story that showcases many of the story points that are compelling to anyone who has listened to it. The story has great themes, tension and dialogue throughout and does some great world building that make me interested in seeing more of this story.
The Art: Green delivers some beautifully detailed art throughout. I love the look of the characters and the style brilliantly showcases the action and horror elements of the story.