Headless Horseman Halloween Annual 2023
Dark Horse Comics
Written by Lukas Ketner, Angela Slatter, Christie Porter, Phillip Sevy, Olivia Stephens, David Dastmalchian and Leah Kilpartick
Art by Lukas Ketner, Valeria Burzo, Phillip Sevy, Olivia Stephens and Tyler Crook
Colors by Lukas Ketner, Lauren Affe, Phillip Sevy, Olivia Stephens and Tyler Crook
Letters by Frank Cvetkovic, Phillip Sevy, Olivia Stephens and Tyler Crook
The Rundown: Five stories usher in the season of Halloween horrors.
Entertainment System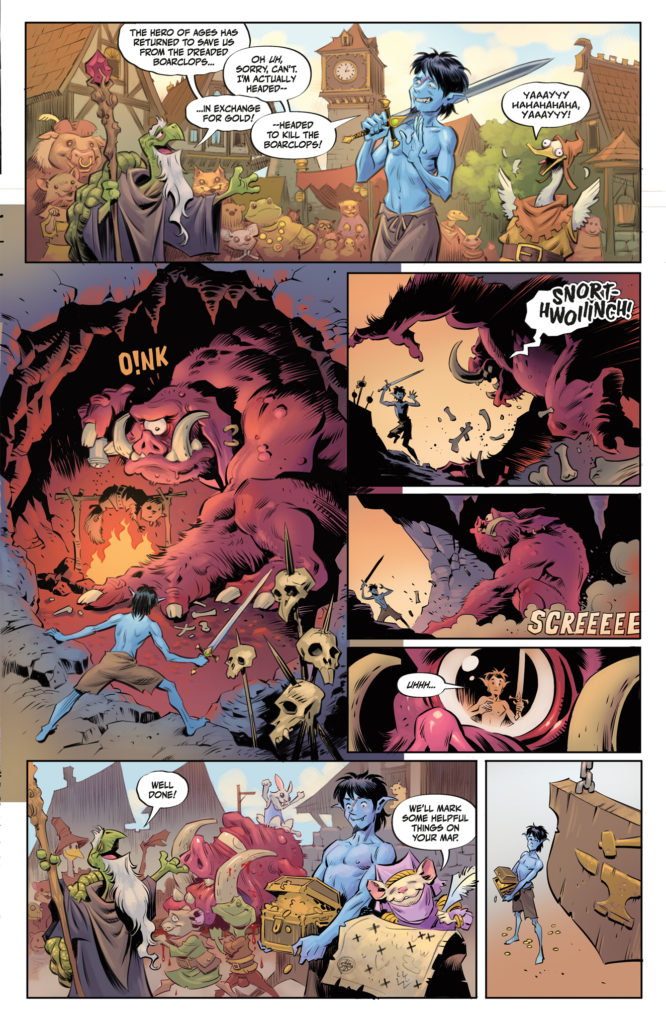 A young hero wakes to find that he has been given a quest by a magical sword to destroy the Shadow King. As he begins his quest, he discovers that he can receive gold and treasures for completing side quests for the locals. Acts that will determine whether he truly is the hero the world needs.
A fun and entertaining short story that beautifully leans into the video game tropes I love. The art is fantastic as well and I would love to see this story expanded and explored more.
Some Wander
As a town celebrates Halloween, a young mother and daughter join in the festivities not knowing that they are being watched. When the young girl gets separated and wanders away, the man stalking her follows. Unfortunately, he will get more than he bargained for this Halloween night.
A brilliantly fun and engaging short that masterfully builds up its suspense to a satisfying and smile inducing finale. The minimal words also add great tension and terror to the story as well using the art to set every moment.
The Chaperone
A group of friends go trick or treating with the new kid in town and his exceedingly controlling and demanding mother. As the chaperone gets more demanding and abusive, the kids will discover too late that there is a dark secret to her and her "son".
A really dark and intense story that has an interesting build up. I liked the black and white art a lot and how it utilizes shades of red.
The Muse
A writer visits a quiet retreat in the woods where her meals are left for her and she is left alone to compose her art. After finding a letter telling her about the area, she heads out and discovers that in order to write, she must sacrifice.
A dark and thoroughly entertaining short story that uses a moment from Stephen King's "On Writing" that made me laugh. Great art that is visually compelling throughout.
Horror House
A group of little monsters enter a haunted house filled with the scariest things of all, modern day humanity.
I absolutely love good satire and this story nails it. There are some moments that are a little too on the nose, but everything works and I love the visual style of the art a lot.