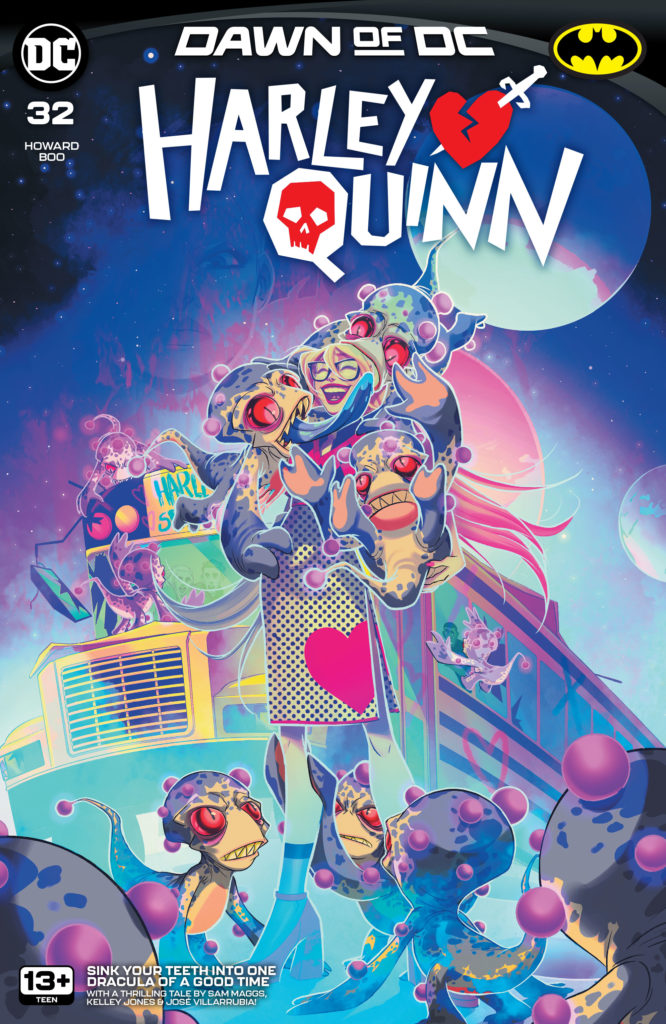 Harley Quinn #32
DC Comics
Written by Tini Howard and "Scary" Sam Maggs
Art by Sweeney Boo and "Killer" Kelley Jones
Colors by "Jinxed" José Villarrubia
Letters by Steve Wands and "Very Tired" Hassan Otsmane-Elhaou

The Rundown: Harley and her students are taken to Earth-48 as Queen Tashana attempts to understand Harley's unique abilities. Harley and Ivy fall victim to the Joker's advances.
The story opens with Harley spending time with Ivy and their new roommate Janet as her pet hyenas discuss current activities. Later, Harley goes to the local community college to coach her students on their upcoming exam. During the lecture, she is interrupted by a powerful being requesting her presence on Earth-48. Harley agrees with the caveat her students travel with her. Once there, she works with Queen Tashana while her students experiment with Earth-48's technology. Later, Harley and the queen run into some deadly adversaries. Finally, after returning home, Harley meets someone unusual.

High Stakes
Harley receives a marriage offer from the Joker. She agrees but brings Ivy along with her when she moves to the castle. Things take a turn when Joker reveals a deadly secret that he passes along to his bride. Afterwards, Harley does battle with her husband. And in the end, the three housemates come to an amusing arrangement.

The Story: Howard presents another humorous and action filled chapter in this series. I like seeing Harley interact with both her students and friends in a compassionate and healthy manner. She is at her best when she is living up to her potential as a good guy. The plotline is interesting. As she discovers more about her multiverse bending powers, its connections to her emotional state is explored, and I find myself captivated by how this is being presented. I am curious to know more about Queen Tashana as well as the role the Hyena's really play in Harley's life. I hope the next chapter is filled with more reveals.

The B Story was a fun horror story with a quirky twist. Just as in the previous issue, this brief narrative is presented as one of Harley's dreams. I thought this tale did a good job of describing Harley's love relationships with both the Joker and Poison Ivy, and I look forward to more of these snippets.

The Art: Although two very different artistic styles are represented, each collection of illustrations compliment their respective stories. The A Story uses bold colors and youthful, modern artwork to enhance the multiverse experience, while a more subdued, traditional design to convey a nightmare like feeling.