Harley Quinn #29
DC Comics
Written by Tina Howard and Adam Warren
Art by Sweeney Boo and Adam Warren
Colors by Sweeney Boo and Alejandro Sanchez
Letters by Steve Wands and Hassan Otsmane-Elhaou

The Rundown: Harley requests Zatanna's help with a multiversal issue. Harley has an extraordinary interaction with her pets.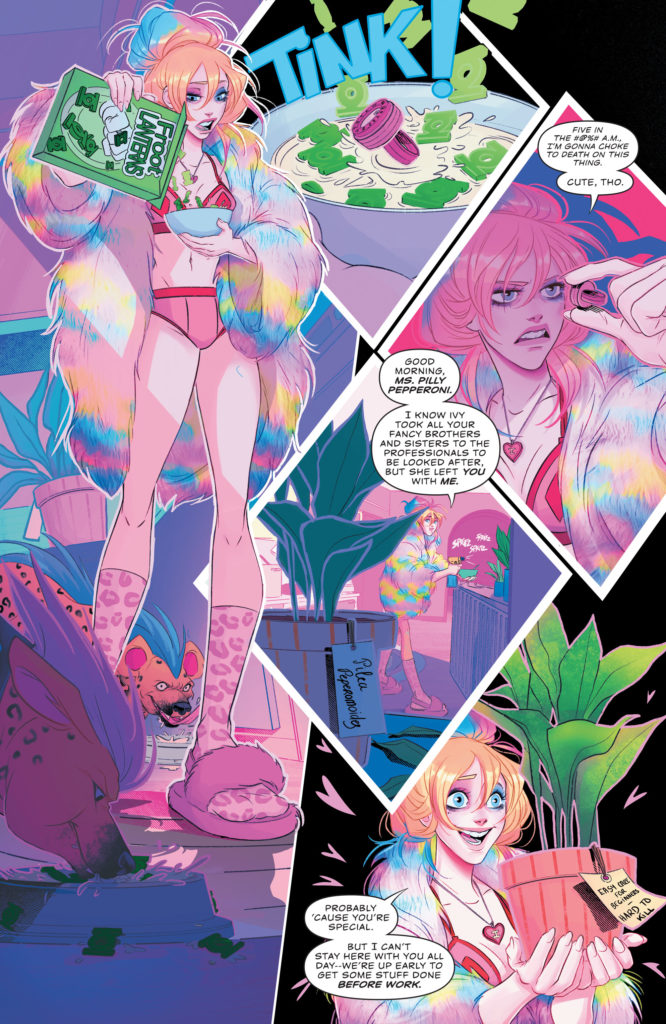 The issue opens with Harley taking care of her pets and plants. Next, she pays a visit to Zatanna, where she makes a special request. Harley is then told she must offer a sacrifice in order to receive help from the magician. Afterwards, she goes about her daily activities and thinks about how to fulfil her obligation. Soon, a conversation with the Dark Knight provides enlightenment and Harley takes action. Finally, she is confronted by a very familiar pair of visitors.

Hyena Anxiety
Harley is awakened by Bud and Lou in an unusual manner. She then learns something unexpected. After an enlightening conversation, Harley then goes about her day.

The Story: I'm quite interested in where this new storyline is headed. Harley's foray into the multiverse is not only having her team up with well-known heroes but forcing her to address her own current actions. Although her magical multiverse saga appears to be grounded in real events, I wonder if there is a deeper meaning to her current struggles.

This narrative does a good job with showing Harley's ever present struggle with her mental health. This potential dream state showcased many of her fears as well as her self-perception. I also appreciated the well-crafted tie-in to the main story.

The Art: This issue features two vastly different creative stylings. The A story uses colorful artwork created in a modern, realistic styling. There is a quirkiness and lightness to the scenes that perfectly capture the tone of the tale. In the B Story, the visuals are darker and the attention to detail highlight the intensity of Harley's mindset. Overall, I felt the illustrations brought emotional depth to the individual stories.