Gargoyles #7
Dynamite Entertainment
Written by Greg Weisman
Art by George Kambadais
Colors by Giulia Giacomino and Giovanna La Pietra
Letters by Jeff Eckleberry
The Rundown: Demona decides to keep an eye on her former clan while she prepares a new plan.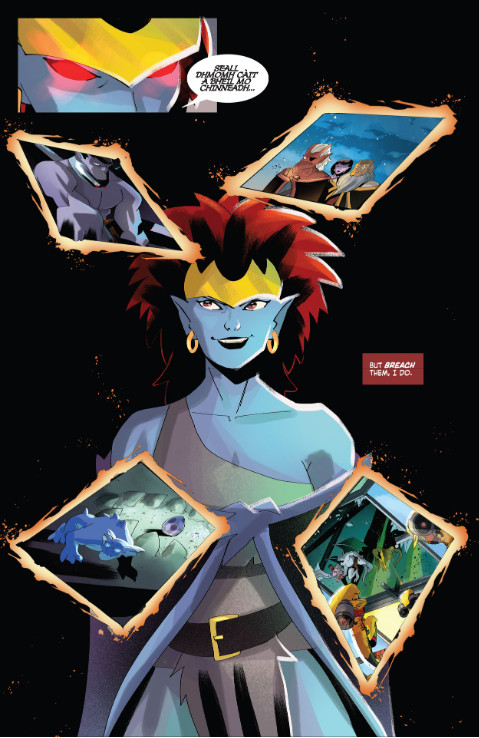 Demona returns to her home in her human disguise and uses the last remaining spell from the Grimorum Arcanorum to spy on her former clan. After witnessing Goliath meeting with his attorney to discuss his case, she turns her eye to Lexington and Broadway as they continue to fight off the remote controlled Cybots.
After turning her attention to the rest of the clan and seeing the burden of leadership weighing on Brooklyn, Demona prepares for a new plan. One that will bring to her new objects of power that will help her rule.
The Story: Weisman crafts a wonderful story that does two things exceedingly well. It gives the reader a sense of what is happening to the characters throughout the story while also giving them a glimpse into a new and growing threat to the Gargoyles and their allies. There is some great tension throughout the issue and I love that the story is told from Demona's perspective. It adds more drama to the story and an ominous tone to the issue. I can't wait to see what happens next.
The Art: Kambadais delivers some beautifully detailed art throughout the issue. I love the way each moment of the story is laid out visually and the style is perfect for the action and characters.