Future State Superman of Metropolis #1
DC Comics
Written by Sean Lewis, Brandon Easton
Art by John Timms, Valentine de Landro, Cully Hamner and Michael Avon Oeming
Colors by Gabe Eltaeb, Marissa Louise and Laura Martin
Letters by Dave Sharpe and Andworld Design
The Rundown: Three stories reveal the state of the City of Tomorrow without Clark Kent to protect it.
Two opposing groups face off in the streets of Metropolis and Jonathan Kent knows that rogue tech is the reason for the uproar. As both sides are forced into a standoff, Jon intervenes in his role as the new Superman of Metropolis. With limited options before him and a villainous AI named Brain Cells as the cause, Jon takes matters into his own hands, literally, and removed the city from the equation. An act that will put him in direct conflict with Supergirl and the US military.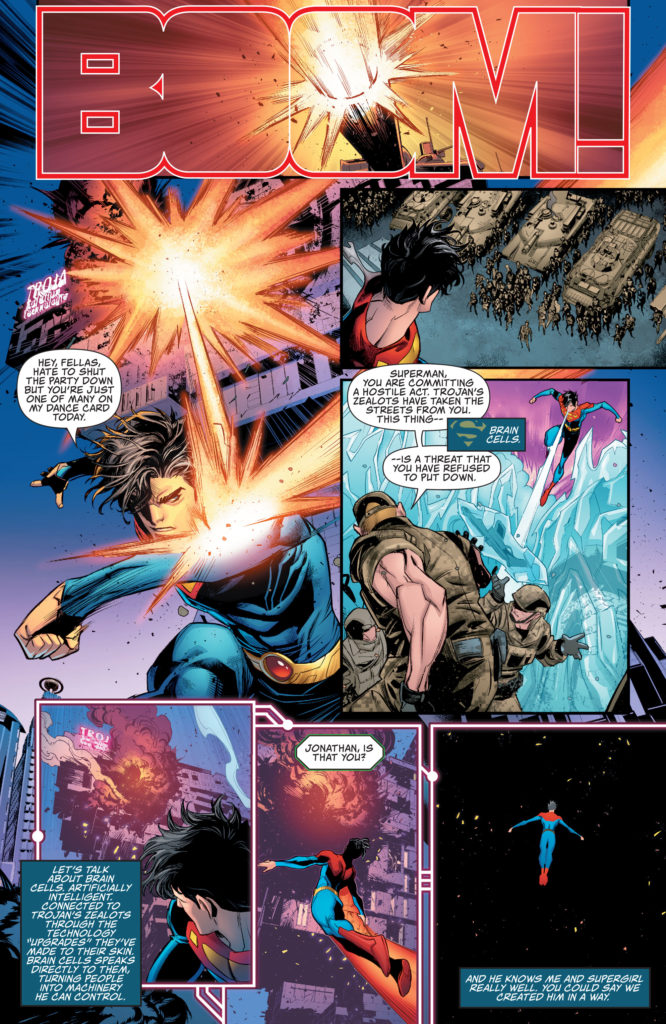 Within the now bottled city of Metropolis, the new Mister Miracle works on a way to free himself and the citizens of the city from the barrier. A task that becomes more difficult when killer robots attack and Miracle's limited assets begin to dwindle.
The city is dealing with its new reality and months into their situation, some of the citizens have had enough. One of the only vigilantes left in the city is Guardian and he finds himself on a mission to stop a new villain who wants to make a name for herself and has kidnapped Jimmy Olsen to do it.
The Story: All three stories have some interesting character moments. Jonathan's struggles with trying to be the hero his father was are interesting and his conflict with Kara makes for some great drama. The Miracle Man story was good, but lacked a sense of context that would engage me as a reader. The Guardian storyline was good, but went a little too long for what it was trying to say.
The Art: The imagery in the main story was vibrant and full of energy. There were some great visual moments throughout and the action was great. The Miracle Man story art was a little too subdued. It lacked any visual flair that would have made it fun or engrossing. The Guardian story art was fine. There was a lot of energy to the action, but that's about it.