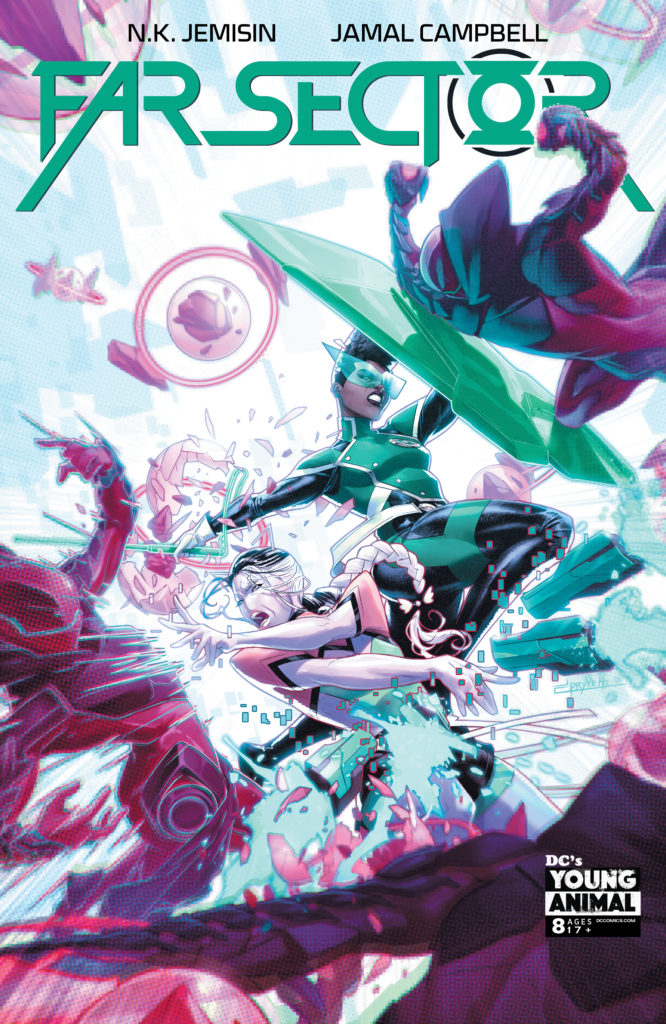 Far Sector #8
DC Comics
Written by NK Jemisin
Art by Jamal Campbell
Letters by Deron Bennett
The Rundown: Every part of Lantern Mullein's investigation opens up new and expanding avenues.
After fighting deep within the interface, Jo and her partner manage to isolate the suspects from the latest murder in the City Eternal. After bringing them in, Jo learns some disturbing truths about the killers and what will happen to them. Truths that will lead her to another investigation.
After being called in by the council, she meets the newest member and her frustration begins to grow with each moment. As she gives them an ultimatum about her continued presence on the planet, she is followed out and given new information that might blow her case wide open.
The Story: Jemisin does a great job of expanding the story and taking it into new and unknown territories. What makes the story work is Jo Mullein. As a character, she is unique in her attitude and mannerisms. I love seeing her be emotional and determined. It's a great counter to the other characters around her and it gives her more depth to engage the reader. The story can get a little away from itself at times, but it still continues to be compelling enough to make me want to read what comes next.
The Art: Jamal Campbell's art is fantastic. Every page is vibrant and beautifully detailed. A great looking issue where everything from the action to the character moments work.