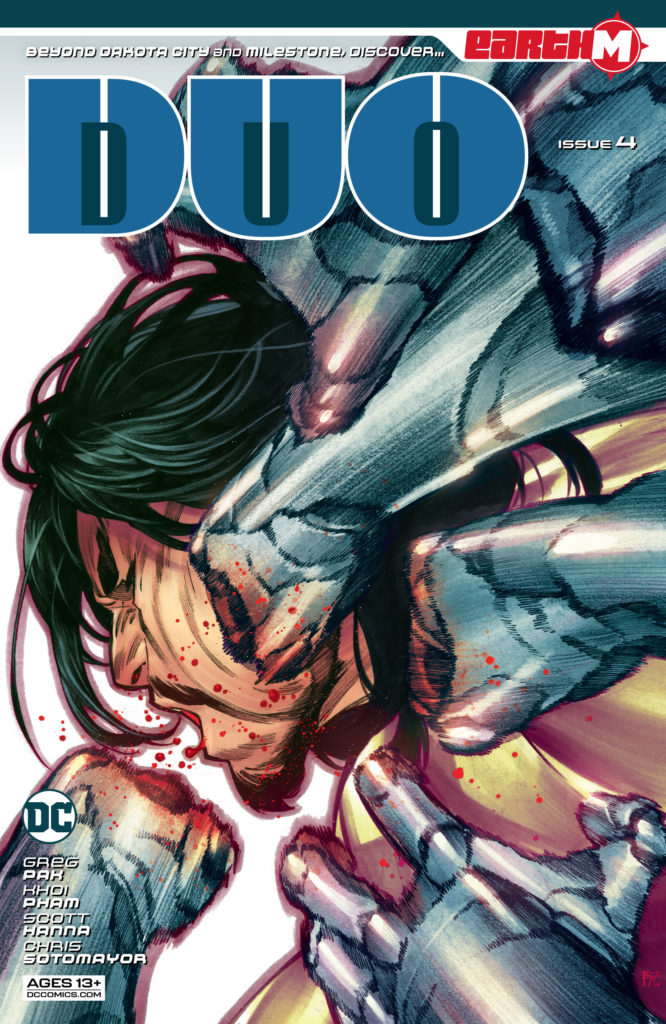 Duo #4
DC Comics
Written by Greg Pak
Art by Khoi Pham
Inks by Scott Hanna
Colors by Chris Sotomayor
Letters by Janice Chiang

The Rundown: The Duo must make a choice between two questionable groups that have a vested interest in their newfound abilities.
The story opens with Detective Truco contacting David with information relevant to the circumstances surrounding Kelly's death. However, Duo is in the middle of a deadly conflict with both the Immutables and a group of weaponized robots. Later, they find themselves in the presence of Dr. Emris Tinker, who makes them a surprising offer. When Duo questions Tinker's motivations, an altercation occurs that ends with unexpected results.

The Story: Pak creates a fast past and exciting narrative that highlights the challenges that David and Kelly must face. Even though they have enemies on all sides, it feels as if the biggest fight is between themselves. What I find interesting about this story is how the more assertive character is female, and when given the opportunity to wield the power of a male, she quickly progresses to a near god-like power level while also discerning the disadvantages of those around her. I am curious to see what happens now that this powerful potential is being realized, and whether or not the Duo will be able to resolve their issues with cohabitation.

The Art: This good-looking issue features detailed artwork in a realistic styling. This series does a really good job at distinguishing the different character voices and visualizing the internal struggle between David and Kelly. I also found the action scenes enjoyable and transportive.