Ducktales
Disney XD
Season 1 Episode 1
"Woo-oo"
The first episode of the return of Ducktales can be summed up in one word: Fun. The episode opens with Donald Duck (longtime Donald Duck voice actor Tony Anselmo) getting ready for a job interview and not being able to find anyone last-minute to watch his nephews Huey (Danny Pudi), Dewey (Ben Schwartz) and Louie (Bobby Moynihan). The relationship dynamics are established pretty early as the boys try to help Donald get out of the house while also hot-wiring the House Boat they live on to joyride. Donald discovers this and decides the only thing he can do is take them to his Uncle Scrooge's house after speaking to Scrooge's housekeeper Ms. Beakley (Toks Olagundoye).
At the same time Scrooge (David Tennant) is becoming increasingly bored with just being the richest duck in the world as his life has become about routine and board meetings. His boredom is evident as he is taken home by his driver Launchpad McQuack (Beck Bennett). When he gets to his house and is confronted by Donald, there is obvious tension between the two of them. It seems they've had a falling out years ago which has caused them to not speak in years. As Scrooge reluctantly takes the boys for the day, Donald gives a word of warning not to the boys, but to Scrooge.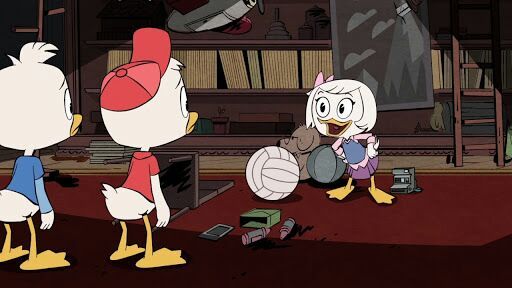 As the boys determine that Scrooge is just as boring as Donald, they are introduced to Webby (Kate Micucci), who lives in the mansion with her grandmother Beakley and is an expert on all things Scrooge McDuck. She tells them about the adventures that Scrooge and Donald use to take and the boys do not believe them until they accidentally activate a series of supernatural relics that threaten not only their lives, but Scrooge's beloved Money Bin. As the adventure continues, Donald gets the new job (working for Scrooge's chief rival Flintheart Glomgold) and a race between Flintheart and Scrooge begins for the fabled "Jewel of Atlantis". A race that will reveal more mysteries as the series progresses.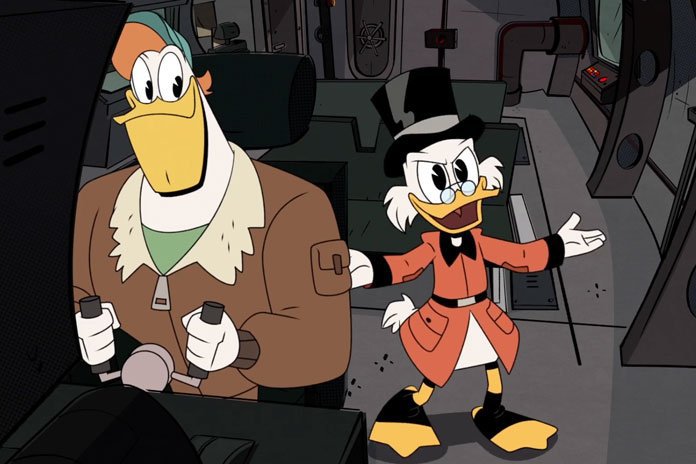 Admittedly, I was skeptical that a reboot of Ducktales would work. One of the things that the original series had going for it was heart and I worried that the series would trip over its need to be too clever. I was wrong on that end. The first episode is exceedingly funny and clever, but it does have a lot of heart. I like the tension between Donald and Scrooge. I enjoy the dynamic between Beakley and Scrooge. I even found myself enjoying the wide-eyed wonder of the boys as they discover new things about their uncles and that those revelations seem to be opening up new mysteries that will be explored throughout the season.
The creators of this new season have taken the best parts of the original and amplified them well, giving every character moments to shine and seemingly crafting a larger world both in the confines of Ducktales, but also beyond.