Deep Beyond #6
Image Comics
Written by Mirka Andolfo and David Goy
Art by Andrea Broccardo
Colors by Barbara Nosenzo
Letters by Maurizio Clausi

The Rundown: Eve's connections to the Defeatists are revealed. Meanwhile, Jolene and her team learn more about their new surroundings.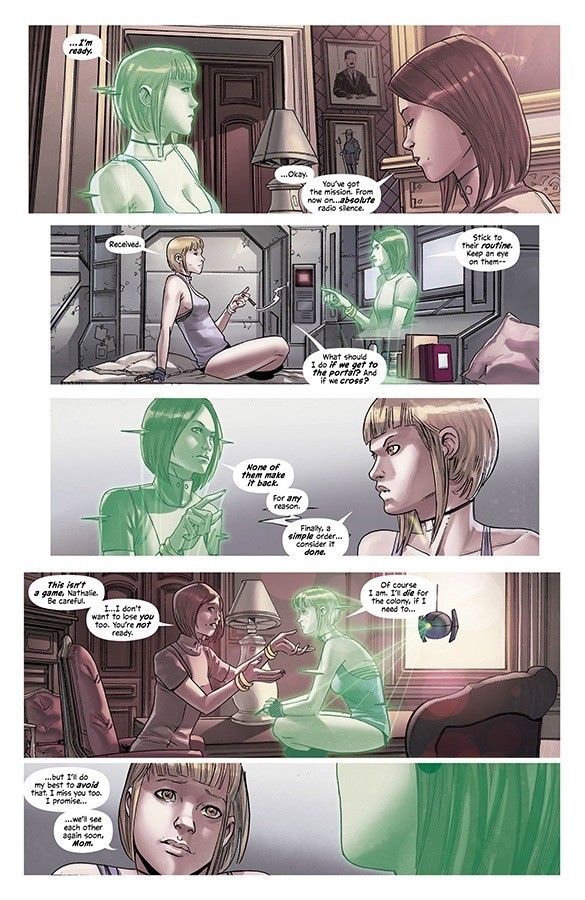 In the past, Eve instructs a spy to infiltrate Jolene's band of Defeatists. During this conversation, Eve's shocking ties to several main characters are discussed. In the present, Jolene learns the true fate of her twin sister. Then, the team discuss their current predicament and the challenging environment of New Earth. Afterwards, Paul is contacted by an unexpected group and learns something surprising.

The Story: Andolofo and Goy deliver a content laden chapter that is filled with world building and character development. The surprises and revelations that are conveyed left my head spinning. I never know what direction this story will take, and I love every minute of it the journey. I can't wait to see what happens in the next episode.

The Art: The artwork in this issue is very well done. The drawings are detailed. And the color work gives the illustrations a water color effect. As a result, the panels have a dreamlike quality to them that perfectly fits the tone of the story. I found each page to be engaging and transportive.