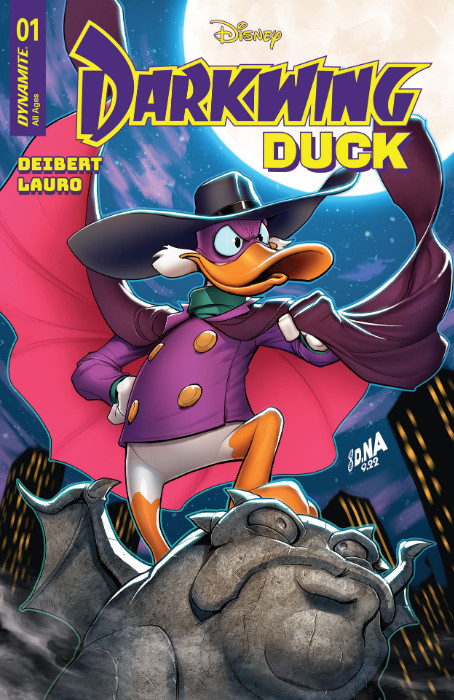 Darkwing Duck #1
Dynamite Entertainment
Written by Amanda Deibert
Art by Carlo Lauro
Colors by Carlo Lauro
Letters by Jeff Eckleberry
The Rundown: The presentation of a honor to Darkwing is interrupted by the return of a villain.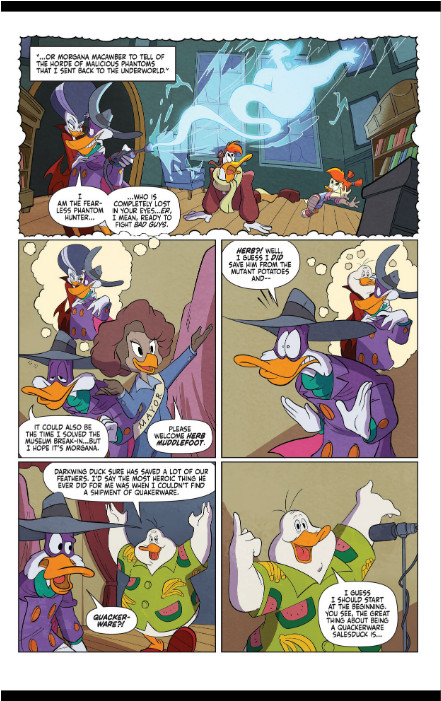 The city of St Canard is preparing to unveil a statue in honor of its local hero Darkwing Duck and the hero himself is enjoying the attention as he poses above the city monologuing to himself. When Launchpad reminds him that he's late, he makes it to the ceremony just in time to hear from those he helped save. A prospect he quickly regrets when he sees who the speaker is.
The joyous moment doesn't last too long when Megavolt returns and uses the gathered crowds cell phones to turn them into a violent mob. As Darkwing and Launchpad escape to go after Megavolt, it will up to Gosalyn and Honker to find a way to stop Megavolt's signal and free the angry mob.
The Story: A fun, funny adventure that has all the wit and charm of the animated series it's based on. The characters are fun, the adventure has some interesting and fun stakes and the story manages to utilize all of its characters really well. I would definitely read more adventures with these characters.
The Art: Lauro beautifully captures the visual style of this world and its characters. The visuals are as fun and funny as the story and the art complements it really well.