Joel Edgerton (Loving/Black Mass) stars in the post-apocalyptic thriller It Comes At Night, which opens this week in theaters. The film, written and directed by Trey Edward Shults, is about a man named Paul (Edgerton) who has sequestered his family in their secluded house in the woods after an unnamed event spreads across the globe.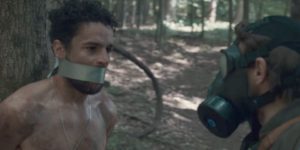 Paul is a devoted husband and father who has been keeping his family safe through his sheer will and military precision. No one leaves the house without a gas mask and they only leave to chop wood or gather water. When a stranger breaks into their home, Paul is wary of the man's story about looking for water for his wife and child. Paul relents and allows the man and his family to stay with them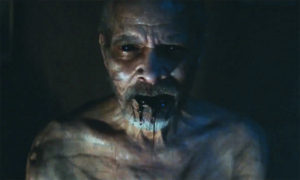 Paul's increasing paranoia contrasts with everyone else's desire to regain some sense of humanity in a world spiraling out of control. The film also stars Riley Keough (Mad Max: Fury Road), Christopher Abbott (Girls), Carmen Ejogo (Alien: Covenant) and Kelvin Harrison Jr. (Roots).
Secure within a desolate home as an unnatural threat terrorizes the world, a man has established a tenuous domestic order with his wife and son, but this will soon be put to test when a desperate young family arrives seeking refuge.
It Comes At Night opens June 9, 2017 in theaters.
@superpoweredfan on Twitter.