The new gameplay trailer for the sequel to the 2015 EA game Star Wars: Battlefront takes you right inside the action on new worlds with new characters and a hint at the single player campaign mode that has been featured in previous trailers.
It looks like this game, according to the trailer, will span the entire film history of the Star Wars saga as Clone Troopers give way to Stormtroopers and eventually First Order Troopers as well in the intro.
EA and DICE are bringing players into the action on the planet Naboo as Clone Troopers take on the Droid Army across the lush landscape of the capital city. The action only intensifies with the appearance of Darth Maul himself to take on the Clones. It also looks like the Clone Troopers will battle in the jungles of Kashyyyk as well as an ice planet (possibly Hoth?). There are also snippets of Boba Fett being his bad ass self,  Yoda taking on Darth Maul saber to saber and Rey fighting Kylo Ren in what looks like Maz Kantana's bar.
Finally, we do get a look at the ship battles that fans have enjoyed as an X-Wing squadron takes on Tie-Fighters in the middle of an asteroid field.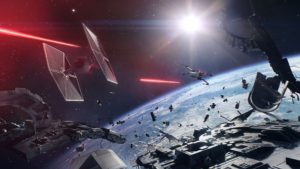 Star Wars: Battlefront 2 promises an immersive single-player experience, updated multiplayer for up to 40 players, split-screen co-op, 24 player space battles and characters from every era of Star Wars.
Star Wars: Battlefront 2 is scheduled for release November 17, 2017.
@superpoweredfan on Twitter.