Captain Marvel #50
Marvel Comics
Written by Kelly Thompson
Art by Javier Pina and David Lopez
Colors by Yen Nitro
Letters by Clayton Cowles
The Rundown: Carol's grief at the loss of a sister hides a bigger concern.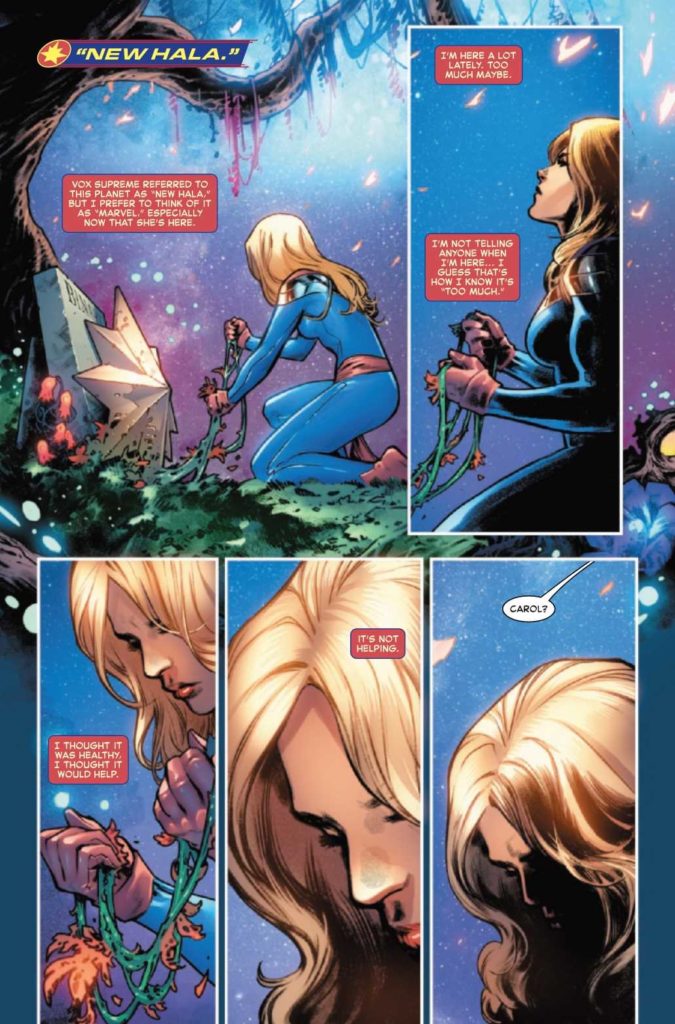 In the wake of Binary's death, Carol has returned to Earth, but she is having a hard time processing her grief. After visiting Binary's grave on New Hala, her sister attempts to help her with a battle, but nothing changes. Jessica decides to bring some friends over and have a party for Carol. A party that does help inspire a new thought.
When Jessica sees that she needs to do more, she and Rhodey concoct a way for her to confront what's inside her. A confrontation that will reveal the real fear behind her grief and help her discover a new purpose.
The Story: Kelly Thompson is the reason I got back into reading Captain Marvel as a series. Her ability to infuse Carol with humanity, humor, edge, agency, passion, emotional and power made this series a fun and entertaining read. This issue encompasses all of those things in a story about Carol dealing with grief with the help of her friends. It showcases her vulnerability as well as her determination in a story that is fun, heartwarming and engaging. Thompson ends this run on a high note and I love seeing Carol come through her personal struggles with a new determination.
The Art: Pina and Lopez deliver some beautifully detailed and visually engaging art throughout the issue. The characters look amazing and both artists nail the tone of the story visually.